Employee Provides Job Applicant With Information Reflecting A Retaliatory Failure To Hire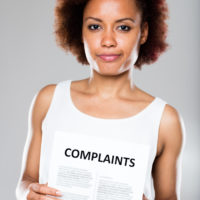 Title VII of the Civil Rights Act of 1964 (Title VII) protects employees from retaliation when complaining about discrimination in the workplace, including filing a charge of discrimination with the U.S. Equal Employment Opportunity Commission (EEOC). Having substantial experience litigating employment retaliation cases, our Central Florida retaliation attorneys have learned that it is not difficult for employers wanting to retaliate against employees for complaining about discrimination to come up with seemingly plausible reasons to justify their employment decisions.
In the retaliatory failure to hire context, employers have even greater latitude to mask their retaliatory motive because they are in exclusive control of information regarding the hiring process, including the reason an unsuccessful applicant was not hired. In other words, applicants generally will never know why they were not hired because employers rarely disclose that information to them. A recent decision by the U.S. Seventh Circuit Court of Appeals in Baines v. Walgreen Company, 863 F.3d 656 (7th Cir. 2017) illustrates that sometimes it is necessary for a present employee to lift the veil of secrecy and shed light on a retaliatory failure to hire that otherwise would remain hidden.
Employee Leans Why Job Applicant Was Not Hired
In that case, Regina Baines (Baines) alleged that Walgreen Company (Walgreens) violated Title VII by failing to hire her in retaliation for complaining about race discrimination during her previous employment with Walgreens. In 2005, Baines began working as a pharmacy technician at Walgreens store in Milwaukee, Wisconsin. In 2007, Baines filed her first charge of discrimination alleging that Walgreens discriminated against her because of her race. 
After she filed the charge of discrimination, Baines met with several Walgreens managers about her allegations. Baines testified that a pharmacy supervisor said that "what I had done was bigger than me, and that I didn't know what I had done." The supervisor also said that Baines had "messed up" and "this is much bigger" than Baines realized. During the meeting, another manager asked Baines what she wanted. Baines said that she wanted to be promoted to a senior technician position and transferred to a different store in Milwaukee. Baines received neither, and in late 2007, she filed a second charge of discrimination with the EEOC alleging retaliation. Baines later sought and received permission to transfer to a Walgreens store in Atlanta, Georgia. However, there was "no work" when she arrived in Atlanta. As a result, Baines filed a third charge of discrimination with the EEOC and alleged that Walgreens had retaliated against her because of her previous EEOC charges of discrimination.
In July 2014, Baines applied for a pharmacy technician position at Walgreens in Wauwatosa, Wisconsin. A pharmacy supervisor named Ruehs handled the hiring process and was authorized to hire candidates at her sole discretion. As part of the application process, Baines was interviewed by Ruehs and took an assessment test. Instead of hiring Baines, Ruehs hired Lisa Martin (Martin) for the pharmacy technician position. Martin is Baines' cousin. Unlike Baines, Martin had no prior experience working as a Walgreens pharmacy technician. Martin worked for Walgreens for about thirteen months and was supervised by Ruehs.
Through working with Ruehs, Martin obtained information about Walgreens failure to hire Baines in July 2014. Martin testified that Ruehs told her that she did not hire Baines because her district manager named Birch had intervened and stopped her from hiring Baines. Martin testified that Ruehs told her that she wanted to hire someone named "Regina" about the time that Martin was hired, but district manager Birch told her that she could not hire her. Baines was the only person named Regina who applied for a pharmacy technician position at the Wauwatosa Walgreens store in July 2014. 
Job Applicant's Information Missing
After she was not rehired in July 2014, Baines filed a fourth charge of discrimination with the EEOC against Walgreens claiming that she was not rehired in retaliation for her prior EEOC filings. During the EEOC investigation, Ruehs told the EEOC investigator that she did not know Baines and did not interview Baines. After she was confronted with a recording of a voicemail she had left Baines notifying her that she would not be hired, Ruehs then admitted that she had interviewed Baines. When the EEOC investigator asked Walgreens for its records from the hiring process for the pharmacy technician position, all information about Baines was missing. In fact, Baines' was not even on the list of interviewees and her interview test scores were gone. 
Court Finds "Something Was Amiss" With Decision Not To Hire
The trial court dismissed Baines' retaliation claim. On appeal, the Seventh Circuit reversed the trial court's dismissal and reinstated Baines' retaliation claim. Unlike the reversed trial court, the Seventh Circuit found that Baines had produced "substantial evidence" of Walgreen's "retaliatory intent" and ordered a jury trial on Baines' retaliation claim.
The Seventh Circuit found that "are several indications that something was amiss with Walgreens' decision not to hire Baines." The appellate court pointed out that Baines' "application and interview scores are mysteriously missing," and Walgreens "offers no explanation for how or why." Walgreens not only did not have any interview information about Baines, Ruehs initially told the EEOC that he never interviewed Baines. Walgreens also hired someone with less experience than Baines. Moreover, Martin's testimony that Ruehs told her that district manager Birch intervened to stop her from hiring Baines provided the causal link between Baines' prior EEOC charges of discrimination and Walgreens' 2014 decision not to rehire her. In fact, the appellate court reasoned, district manager Birch's "unusual intervention to stop Ruehs from hiring Baines" was evidence that Baines' prior EEOC charges of discrimination "caused Walgreens 2014 not to rehire her." This evidence, the Seventh Circuit concluded, was sufficient to establish that Walgreens unlawfully retaliated against Baines.
Free Consultation With Central Florida Retaliation Attorneys
Based in Ocala, Florida and representing employees throughout Central Florida, we have extensive experience representing employees who have been retaliated against for complaining about discrimination. If you have been the victim of employment retaliation, or have questions about your legal protection from retaliation for complaining about workplace discrimination, please contact our office for a free consultation with our Central Florida retaliation lawyers. Our employee rights law firm takes employment retaliation cases on a contingency fee basis. This means that there are no attorney's fees incurred unless there is a recovery and our attorney's fees come solely from the monetary award that you recover.