Employee With A Disability Claims Retaliation When Fired Two Days After Requesting An Accommodation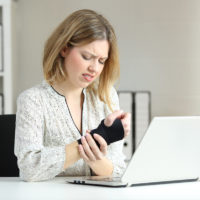 Under the Americans with Disabilities Act (ADA), employees are protected from retaliation when the request a reasonable accommodation for their disability. Having litigated retaliation cases in Florida state and federal courts for nearly twenty years, our Alachua County, Florida employment law attorneys have learned that employers often try to get rid of employees with a disability who request an accommodation. In many cases, employers justify the employee's termination by claiming that the employee engaged in some form of misconduct. Despite characterizing the behavior of the employee requesting an accommodation as misconduct, employers frequently do not discharge non-disabled employees who engaged in the same or even worse behavior. The recent decision by the U.S. District Court for the Middle District of Tennessee in Everson v. SCI Tennessee Funeral Services, LLC, No. 15-1478 (M.D. Tenn. April 20, 2018) demonstrates that an employee can prove that he or she was fired in retaliation for requesting a reasonable accommodation from the mere fact of differences in treatment.
Employee Requests Time Off For Medical Procedure
In that case, Ommer Everson (Everson) sued his former employer, SCI Tennessee Funeral Services, LLC (SCI), pursuant to the ADA. Everson claimed that SCI fired him in retaliation for requesting a reasonable accommodation under the ADA. Everson was employed by SCI as a funeral director and general manager from 1996 until January 2015.
In 2000, Everson was diagnosed with Meniere's Disease. Everson maintained that his ear condition did not affect his work until 2010 when he had his first outpatient ear procedure. Prior to his ear procedure in 2010, Everson notified his supervisor, a man named Duffer, of his ear condition and requested approximately one week off from work. Duffer granted Everson's request. In October 2014, Everson had a second ear procedure and requested an afternoon off from work for the procedure. Once again, Duffer granted Everson's request. On January 9, 2015, Everson informed Duffer that he was scheduled for a third ear procedure at the end of January and requested approximately one week off from work. Duffer responded: "That's fine Tre. Whatever time you need." Everson was fired two days later.
Employee Who Violated Policy Not Disciplined Or Fired
SCI claimed that Everson was fired for leaving an unembalmed body overnight in a parlor at a funeral home without refrigeration in violation of SCI's policy. SCI's refrigeration policy requires unembalmed decedents to be placed in a designated refrigeration unit within 24 hours after the body was delivered to SCI. Everson argued that SCI's articulated reason for firing him was a pretext for retaliation because the employee who was responsible for the deceased body, a man named Slate, was not fired or even disciplined. Everson maintained that he was not responsible for refrigerating the deceased body because Slate, who was a funeral director, assumed that duty by signing a chain of custody form for the body. Once he signed the form, according to Everson, Slate took responsibility for the deceased body from him. Although Duffer was aware that Slate had signed the chain of custody form indicating that he had taken responsibility of the body, Duffer never questioned Slate why the body was still in the parlor.
Differences In Treatment Establish Retaliation
SCI filed a motion with the trial court seeking dismissal of Everson's retaliation claim. In doing so, SCI maintained that Everson's retaliation claim was meritless and Everson was prohibited from bringing his retaliation claim before a jury for resolution. The trial court denied SCI's motion for dismissal and ruled that a jury must decide whether SCI fired Everson in retaliation for requesting an accommodation by asking for time off from work for a medical procedure related to his Meniere's Disease.
In denying SCI's motion for dismissal, the trial court pointed out that Everson requested a reasonable accommodation for his disability by asking for time off from work for his ear procedure. By requesting an accommodation for his disability, the trial court noted, Everson was protected from retaliation by the ADA. Although SCI approved Everson's request, the trial court determined that a "jury could conclude that the approval was disingenuous given [Everson's] termination soon thereafter." A jury could not only find that the approval was disingenuous, the trial court explained, a "jury could [also] find that [SCI's] terminating [Everson] for his failure to refrigerate a deceased body two days after he requested time off for an procedure, but not terminating or even disciplining [Slate] who apparently had custody of the body and failed to refrigerate it, was a pretext" for retaliation. In other words, according to the trial court, SCI's failure to fire or discipline Slate even though he violated the same policy Everson allegedly violated was sufficient to prove that Everson was fired in retaliation for requesting an accommodation for his disability.
Free Consultation With Gainesville Discrimination Lawyers
Based in Ocala, Florida and representing employees throughout Central Florida, we have extensive experience litigating disability discrimination cases in federal and state court. If you have been the victim of disability discrimination or have questions about your right to an accommodation under the ADA, please contact our office for a free consultation with our Alachua County, Florida employment discrimination attorneys. Our employee rights law firm takes employment discrimination cases on a contingency fee basis. This means that there are no attorney's fees incurred unless there is a recovery and our attorney's fees come solely from the monetary award that you recover.