Employee's Wrongful Termination Claim Survives Dismissal Where Owner Made Racial Remarks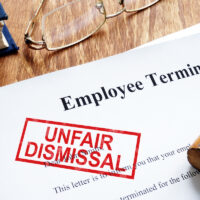 Having litigated wrongful termination cases for more than twenty years, our Citrus County, Florida wrongful termination lawyers know that company owners frequently make discriminatory remarks reflecting that their employment decisions are the product of unlawful discrimination. Company owners seemingly make discriminatory remarks in the workplace because, among other reasons, they are not restrained by the company's policies, including any anti-discrimination policy. Nor are company owners subject to control by other company employees.For example, company employees usually cannot tell the owner that he or she is fired because of the discriminatory remarks or will be fired if the discriminatory remarks continue. In this article, our Inverness, Florida wrongful termination attorneys explain how the decision by the U.S. District Court for the Southern District of New York in O'Diah v. Yogo Oasis, 2013 WL 3796619 (S.D. N.Y. July 22, 2013) demonstrates that employees subjected to discriminatory comments by a company owner have little means of defense—other than the federal anti-discrimination laws.
Employee Claims Wrongful Termination
In that case, Ese O'Diah (O'Diah) brought an employment discrimination lawsuit against his former employer, Yogo Oasis, d/b/a Roastown Coffee (Roastown), pursuant to Title VII of the Civil Rights Act of 1964 (Title VII). Under Title VII, it is an unlawful employment practice for employers to discriminate against employees on the basis of race or national origin. O'Diah claims that Roastown violated Title VII by firing him because of his race and national origin.
In June 2009, O'Diah, a black male from Nigeria, began working as a barista at Roastown. A man named Shin, a first-generation immigrant from Korea, owns Roastown. Shin was initially pleased with O'Diah's work and promoted him to manager. According to one of O'Diah's co-workers, Shin made a number of discriminatory remarks about O'Diah throughout his employment. On one occasion, Shin instructed O'Diah to tell a group of black men to leave the vicinity of Roastown's storefront, stating "you black guy, tell those black guys [to] go away." Although O'Diah refused to do so, Shin insisted, stating "black guys [are] bad for business, you black guy, make them leave." After O'Diah again refused, Shin became angry and poked O'Diah in the chest, stating "damn black guys no good."
In August 2010, Shin called O'Diah into his office to confront him with surveillance tape footage that showed O'Diah taking cash from the register and placing it in his pocket. O'Diah explained that the register had run out of change and he needed to run across the street to get more change. Evidently unconvinced by that explanation, Shin directed his assistant to call the police. When O'Diah protested that he had no motivation to steal from Roastown since he had "helped build the store to the way it is now," Shin responded by pointing his finger at O'Diah and stating: "you Nigerians can't be trusted." O'Diah claims that Shin terminated his employment that day for allegedly stealing money from Roastown.
Fired For Discriminatory Reasons
Roastown filed a motion with the trial court seeking dismissal of O'Diah's discriminatory discharge claim. In support of its motion, Roastown argued that O'Diah was legitimately fired for stealing money from Roastown and not for a discriminatory reason. The trial court denied Roastowns's motion for dismissal and ruled that O'Diah had presented evidence "from which a rational jury could determine that O'Diah was terminated for discriminatory reasons."
In denying Roastown's motion for dismissal, the trial court focused on Shin's discriminatory comments towards O'Diah. The trial court pointed out that Shin "made numerous discriminatory remarks concerning O'Diah's race and national origin throughout his employment at Roastown." The trial court found that Shin's discriminatory comments—in particular, Shin's statement to O'Diah at the time he was fired, that "you Nigerians can't be trusted"—are "suggestive of Shin's discriminatory animus against O'Diah." The trial court also explained that Shin was unable to provide any evidence of theft by O'Diah or any evidence to undermine O'Diah's explanation that "he did what he believed reasonably necessary to keep the store from having to close as a result of running out of change."
Consult With Inverness Wrongful Discharge Lawyers
Based in Ocala, Florida and representing employees throughout Central Florida, our Citrus County, Florida wrongful termination lawyers have been representing employees for more than two decades. If you have been wrongfully terminated or have questions about your protection against wrongful termination under the federal civil rights laws, please contact our office for a free consultation with our Inverness, Florida wrongful termination lawyers. Our employment and labor law attorneys take wrongful termination cases on a contingency fee basis. This means that there are no attorney's fees incurred unless there is a recovery and our attorney's fees come solely from the monetary award that you recover.