Florida-Based Insurance Broker to Settle Claim Filed by EEOC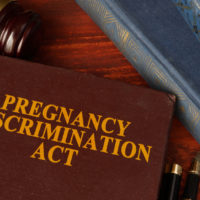 Brown & Brown, a Daytona Beach-based insurance brokerage firm, is now obligated to pay $100,000 to settle a lawsuit filed by the Equal Employment Opportunity Commission (EEOC). The employment rights agency claims that the company blatantly discriminated against an employee who was pregnant, in violation of federal law.
Question about maternity leave results in withdrawn job offer
The case arose from an incident in the company's Daytona Beach office. A woman had applied for a position with Brown & Brown as a "personal lines technical assistant." After a successful interview, the woman was provided with a written offer for the position, as well as an employment agreement and dates when she could start her new role. The woman accepted the offer via email and noted that she had a few questions about the offer.
Within a few hours, the woman spoke with the assistant to her would-be department leader, whom she asked about maternity benefits. The recently-accepted applicant explained that she was pregnant and would need to use those benefits. The leader's assistant contacted the department leader after this conversation, alerting him to the woman's pregnancy. Within mere minutes, the company rescinded the offer via email, explaining that the company "had a very urgent need to have somebody in the position long term. . . We appreciate you telling us beforehand."
EEOC files lawsuit when settlement can't be reached
When the EEOC learned of this incident, they attempted to reach a settlement with Brown & Brown but were unable to do so, and subsequently filed a lawsuit against the Florida company. Pregnant women are protected from discrimination in the application, hiring and firing process through Title VII of the Civil Rights Act and the Pregnancy Discrimination Act. Michael Farrell, the director of the Miami district of the EEOC, stated, "The Pregnancy Discrimination Act requires that pregnant employees be treated the same as non-pregnant employees who are similar in their ability or inability to work. This includes treating pregnant employees the same as others at the hiring stage."
In addition to paying the $100,000 settlement, Brown & Brown must also create and proliferate a policy regarding pregnancy discrimination, as well as train its managers and other personnel with hiring or supervisory responsibilities against the practice and against other sex discrimination.
If you've been the victim of discrimination in the workplace based on your gender, pregnancy, race, or nationality, contact the seasoned, professional, and dedicated Ocala employment discrimination lawyer James P. Tarquin for a consultation, at 352-401-7671.