FSU's COVID-19 Clinic Director Resigns Amid Sexual Harassment Investigation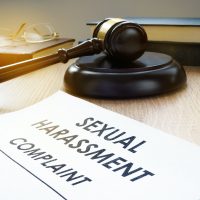 Throughout the past two decades, our Marion County, Florida hostile work environment lawyers have fought for the rights of sexual harassment victims. Through their decades of experience representing sexual harassment victims, our Ocala, Florida hostile work environment attorneys know that even when employers claim to be taking steps to stem sexual harassment conduct in the workplace, when the issues continue to arise, there's more than likely a systemic issue to address. It's important, nevertheless, that employers–even institutions of higher learning-take proper steps to reprimand alleged harassers and rectify any policies that allowed the harassment to occur in the first place.
An associate dean at Florida State University recently resigned after facing a months-long investigation concerning alleged sexual harassment and sexual misconduct. While it's appropriate for the school to take such allegations seriously, repeated instances of sexual misconduct by multiple school administrators raise questions about the university's culture overall. Continue reading to learn about the most recent investigation into the school administrator's conduct.
FSU Associate Dean Accused of "Grooming," Sexual Misconduct, Creating a Hostile Work Environment
An associate dean at Florida State University, who also serves as the director of the school's COVID-19 clinic, recently resigned in the midst of an internal investigation concerning his behavior toward female employees. According to a spokeswoman for the university, the internal investigation found that he violated the school's anti-sexual misconduct policy by "creating a hostile workplace for employees."
The 86-page investigation summary details a range of improper conduct by the associate dean. According to testimony elicited in the investigation, multiple women allege the associate dean made uncomfortable comments and sent sexually charged text messages. On many occasions, he bought employees unsolicited gifts, which investigators declared to be incidents of potential "grooming."
According to one subordinate and as confirmed by text messages, he invited her to dinner dates, including on Valentine's Day, invited her to take trips with him, and offered to come to her house. After she was given several raises, upping her salary more than 60% in a single year, he reportedly asked her "Do you like your raise?" before adding, "I will take care of you."
The investigation headed by the university's Equity, Diversity, and Inclusion Office (EDI) kicked off following an allegation levied in November 2021 by a woman who quit the COVID-19 clinic to take a lower-paying job in order to "get away from the daily situation at FSU." They conducted a thorough investigation of the man over eight weeks, interviewing several alleged victims as well as the associate dean himself. While he tried to defend himself by claiming that the allegations were part of a smear effort against himself and his family, the investigators found the victim's allegations painted a cohesive picture of similar conduct. They found his defense lacked credibility, concluding that "objectively, based on a reasonable person standard, his actions … were romantic and/or sexual in nature, could be interpreted as romantic and/or sexual advances, were unwelcome, and potentially grooming in nature."
The associate dean submitted his resignation letter two weeks before investigators finalized their report. He'd been director of the FSU School of Physician Assistant Practice since 2016, and he's been the leader of the school's COVID-19 testing protocols since June 2020.
At least three other FSU professors, as well as another member of the FSU College of Medicine administration, have been found to have violated the school's sex discrimination and sexual misconduct policies. Whether the repeated issues are grounds for civil action against the school remains to be seen.
Ocala, FL Sexual Harassment and Hostile Work Environment Lawyers
Based in Ocala, Florida, and representing employees throughout Central Florida, our hostile work environment attorneys in Marion County, Florida have litigated sexual harassment cases in Florida courts for more than twenty years. If you have been sexually harassed at work or have questions about your rights as a sexual harassment victim, please contact our office for a free consultation with our hostile work environment lawyers in Ocala, Florida. Our employee rights law firm takes sexual harassment cases on a contingency fee basis. This means that there are no attorney's fees incurred unless there is a recovery and our attorney's fees come solely from the monetary award that you recover.