How Employers Retaliate Against Sexual Harassment Complainants: By Investigating Them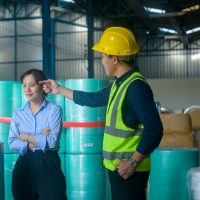 Throughout the past two decades, our Citrus County wrongful termination lawyers have litigated hundreds of wrongful termination cases in Florida courts. In fighting for the rights of wrongful termination victims, our Inverness, Florida wrongful termination attorneys have learned that employers often retaliate against employees who complain about sexual harassment by investigating them. In targeting sexual harassment complainants for investigation, employers invariably come up with information during the investigation that they use as a pretextual justification for terminating sexual harassment complainants. In far too many cases, the information employers come up with during the investigation includes allegations that the employee complaining about sexual harassment also purportedly engaged in sexual conduct in the workplace. Thus, employers use retaliatory investigations not only as a means to get rid of employees who lodge sexual harassment complaints, but also as a means to defend themselves against the sexual harassment allegations and any subsequent sexual harassment lawsuit.
In this article, our Citrus County sexual harassment attorneys explain how the alleged facts in Harris v. Sam's East, Inc., 2022 WL 1631963 (M.D. Ga. May 23, 2022) are illustrative of how employers launch retaliatory investigations against employees who complain about workplace sexual harassment.
Retaliatory Termination Lawsuit
In that case, a woman named Harris brought a retaliation lawsuit against her former employer, Sam's East, Inc. (Sam's), pursuant to Title VII of the Civil Rights Act of 1964 (Title VII). Title VII protects employees from sexual harassment in the workplace. To violate Title VII, sexual harassment must be sufficiently severe or pervasive to alter the conditions of the victim's employment and create a hostile working environment. In order to protect sexual harassment victims, Title VII contains an anti-retaliation provision. Under Title VII, employers are prohibited from retaliating against employees who complain about perceived sexual harassment in the workplace. Harris claims that Sam's violated Title VII by firing her in retaliation for her sexual harassment complaint.
In 2015, Harris began working for Sam's at its store in Georgia. Beginning in September 2017, Harris claims that she was subjected to unwanted sexually harassing behavior from a co-worker, Otero. Having finally had enough, Harris complained in May 2019 to an Assistant Club Manager, Lee, about "sexual harassment in the workplace." Harris complained that Otero had subjected her to sexual remarks and sexual propositions. Lee reported Harris' complaint to the company's Global Ethics division. Global Ethics launched an investigation into Harris' complaint. Global Ethics eventually expanded its investigation's scope to include allegations that Harris sexually harassed a co-worker, Skahan. Global Ethics never told Harris that she was being investigated for her alleged sexual harassment of an employee.
Based on its investigation, Global Ethics determined that Harris' allegations regarding Otero's sexual conduct could not be corroborated. However, Global Ethics determined that Harris made inappropriate comments of a sexual nature towards Skahan. Based on the findings of the investigation, the store's manager, Torres, fired Harris. Harris claims that the real reason Sam's terminated her employment was because she complained about sexual harassment in the workplace.
Evidence Of Retaliatory Termination
Sam's filed a motion with the trial court seeking dismissal of Harris' retaliatory termination claim. In seeking dismissal, Sam's argued that Harris was fired because she sexually harassed another employee and not because she complained about sexual harassment. The trial court denied Sam's motion for dismissal and ruled that "evidence exists from which a reasonable jury could conclude the [Sam's] articulated reason for terminating Harris' employment was pretextual and that she was in fact terminated because she complained of a sexually hostile work environment."
In support of its holding, the trial court focused on Sam's investigation of Harris following her sexual harassment complaint. The trial court observed that "prior to her complaints about a sexually hostile work environment, no one ever complained that Harris had sexually harassed anyone." "In fact," the trial court noted, "this finding of harassment on her part was discovered during the company's investigation of her sexual harassment claims against the Company's employees." The trial court also observed that although Sam's "discovered evidence that Harris may have made inappropriate comments regarding a male employee, Skahan, that evidence likely did not amount to unlawful sexual harassment." Indeed, Skahan informed the company that her sexual comments never made him "uncomfortable." Finally, the trial court pointed out that Sam's "took no action" against Otero—who Harris "claims made far more serious and pervasive sexually harassing comments about her."
Citrus County Wrongful Discharge Lawyers
Based in Ocala, Florida, and representing workers throughout Florida, our wrongful termination attorneys in Citrus County, Florida have represented wrongful termination victims for more than two decades. If you have been wrongfully terminated or have questions about your rights as a wrongful termination victim, please contact our office for a free consultation with our wrongful termination lawyers in Citrus County, Florida. Our wrongful termination attorneys take wrongful termination cases on a contingency fee basis. This means that there are no attorney's fees incurred unless there is a recovery and our attorney's fees come solely from the monetary award that you recover.