Is The Existence Of A Sexual Hostile Work Environment Determined By The Harasser's Intent?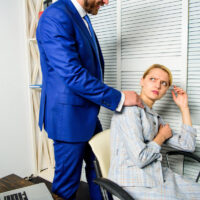 Having represented sexual harassment victims for more than two decades, our Alachua County, Florida sexual harassment lawyers know that employers often defend sexual harassment cases by claiming that the sexually harassing behavior amounted to nothing more than "praise" or "compliments." Having mischaracterized the nature of the conduct at issue, employers then maintain that well-intentioned compliments and praise do not constitute sexual harassment. However, courts have consistently determined that whether a harasser's conduct constitutes sexual harassment is not determined by the harasser's allegedly benign intent. Instead of focusing on the harasser's intent, court focus on the discriminatory effect of the harasser's actions. In this article, our Gainesville, Florida sexual harassment attorneys explain how the decision by the U.S. District Court for the Southern District of New York in Cruz v. N.Y. State Dept. of Cor. & Comm. Supervision, Case No. 13-cv-1335, shows that the harasser's ostensibly benign intent is irrelevant to whether victim worked in a sexual hostile work environment.
Employee Claims Sexual Harassment
In that case, Ricardo Cruz (Cruz) brought a sexual harassment lawsuit against his former employer, N.Y. State Department of Corrections and Community Supervision (DOCCS), pursuant to Title VII of the Civil Rights Act of 1964 (Title VII). Title VII prohibits employers from discriminating against employees on the basis of sex. Sexual harassment is a form of sex discrimination forbidden by Title VII. Title VII's prohibition against sexual harassment protects men as well as women. Cruz alleges that DOCCS violated Title VII by allowing his supervisor to sexually harass him.
Until August 2012, Cruz was employed by DOCCS and was supervised by a woman named Johnson. Cruz alleges that on an almost daily basis from May 2008 until July 2012, Johnson directed sexually charged comments at him while making seductive facial expressions. The pervasive sexually charged comments which Johnson allegedly made to Cruz included: "you are the only man here, we didn't have a man here in a long time," "you are a good man," "your wife is lucky," "you have straight white teeth," and "your back has a V-shape." Cruz alleges that he did not accept Johnson's sexual advances, remaining austere and non-responsive. Because of Johnson's actions, Cruz left DOCCS in August 2012 for another position, despite the fact that his new job had lower pay and fewer opportunities.
Sexual Harasser's Intent Is Irrelevant
DOCCS filed a motion with the trial court seeking dismissal of Cruz's sexual harassment claim. In support of its motion for dismissal, DOCCS argued that Johnson's "conduct is not sexual harassment because the comments can be construed as praise, compliments, and mere factual statements." Thus, according to DOCCS, whether Cruz was sexually harassed was controlled by Johnson's intent. If Johnson acted with the intent to praise or compliment, DOCCS maintained, then Cruz was not sexually harassed. The trial court denied DOCCS' motion for dismissal and ruled that Cruz had presented sufficient factual allegations to establish that he worked in a sexual hostile work environment in violation of Title VII.
In denying DOCCS' motion for dismissal, the trial court specifically rejected DOCCS' argument that whether the harasser's actions constitute sexual harassment is determined by the harasser's intent. The trial court explained that "conduct that poisons the workplace is actionable so long as the environment would reasonably be perceived, and is perceived [by the victim], as hostile or abusive, whether or not the abuser specifically intends that it should be so." To focus on the harasser's intent, the trial court observed, would improperly discount the polluting discriminatory effect on the workplace environment caused by the harasser's conduct. Thus, as the Cruz court recognized, in analyzing sexual harassment cases, courts to not focus on the ostensibly benign intent of the harasser. Instead, they focus on whether the effect of the harasser's conduct was to pollute the environment with harassing conduct that discriminatorily altered the conditions of the victim's employment.
Consult With Gainesville Harassment Lawyers
Based in Ocala, Florida and representing employees throughout Central Florida, our Alachua County, Florida sexual harassment attorneys have been fighting for employee rights for more than twenty years. If you have been the victim of sexual harassment or have questions about whether a co-worker's conduct constitutes sexual harassment under the federal anti-discrimination laws, please contact our office for a free consultation with our Gainesville, Florida sexual harassment lawyers. Our employees' rights attorneys take sexual harassment cases on a contingency fee basis. This means that there are no attorney's fees incurred unless there is a recovery and our attorney's fees come solely from the monetary award that you recover.