Are Remarks About The Incompatibility Of Motherhood & Employment Evidence Of Sex Discrimination?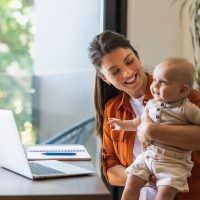 Having represented employment discrimination victims for more than two decades, our labor law lawyers in Marion County, Florida know that stereotypes about women's domestic roles and women's commitment to work continue to create a cycle of discrimination against women in the workplace. Stereotypes of this sort are often manifested in the view that women cannot be a good mother and have a job that requires long hours, or in the belief that women with children at home will not show the same level of job commitment as a man. The view or belief that a woman will perform her job less well due to her presumed family obligations is a form of sex-stereotyping and employment decisions based on such sex-based stereotypes constitute unlawful sex discrimination. In this article, our labor law attorneys in Marion County, Florida explain how the decision in Santiago-Ramos v. Centennial P.R. Wireless Corp., 217 F.3d 46 (1st Cir. 2000) illustrates sex-based stereotypical remarks about the incompatibility of motherhood and employment are evidence of sex discrimination.
Sex Discrimination Lawsuit
In that case, a woman named Santiago-Ramos brought a sex discrimination claim against her former employer, Centennial P.R. Wireless Corporation ("Centennial"), pursuant to Title VII of the Civil Rights Act of 1964 ("Title VII"). Title VII prohibits employers from discriminating against employees on the basis of sex. Santiago-Ramos claims that she was fired because of her sex in violation of Title VII.
Santiago-Ramos worked for Centennial as director of finance and administration. Santiago-Ramos was the only female among Centennial's four high-level executives. At the time she worked for Centennial, Santiago-Ramos had one child and planned to have another child within several years. After beginning work, she was directly asked about her ability to balance work and family obligations. In one instance, Centennial's vice president, Rivera, asked Santiago-Ramos whether it was possible for her to handle simultaneously her job, childcare, and marital responsibilities. Several times, Rivera questioned Santiago-Ramos how her husband was managing, considering she was not home to cook for him.
Sex-Based Stereotyping Questions
The questions were not asked only by Rivera: two weeks before she was dismissed, Centennial's senior vice president, Mayberry, asked Santiago-Ramos how well her work was proceeding in light of her child. Santiago-Ramos responded that her work was going well and that she planned to have a second child within several years. Mayberry stated that having another child was a lot of work, and he questioned whether Santiago-Ramos could perform her job effectively after having a second child. Santiago-Ramos responded that she would be able to meet both work and family obligations. Santiago-Ramos sensed that Mayberry disliked her response.
Another incident directly involved Santiago-Ramos, Rivera, and Mayberry. During Santiago-Ramos' tenure at Centennial, the company planned a major job fair at which a large number of employees would be hired. In preparation for the event, Rivera met with Santiago-Ramos and an advertising consultant. Rivera discussed a profile he drafted identifying the people the company was and was not interested in hiring. The profile purportedly excluded from consideration older persons with heavy non-work commitments, married women, and women with children. Rivera told Santiago-Ramos that the profile was "nothing personal against you," but that he preferred unmarried, childless women because they would give 150% to the job. Later in this meeting, Rivera telephoned Mayberry, read the profile to him, and Mayberry approved it.
On her 89th day of employment with Centennial, Mayberry told Rivera to terminate Santiago-Ramos. Rivera did so without providing Santiago-Ramos with an explanation.
Evidence Of Sex Discrimination
On appeal, the U.S. First Circuit Court of Appeals reversed the trial court's dismissal of Santiago-Ramos' sex discrimination claim. In reversing the trial court, the court of appeals focused on the evidence of sex-based stereotyping. The appellate court observed that two weeks before Santiago-Ramos' termination, Mayberry asked Santiago-Ramos about "her ability to balance her current work and parental responsibilities." "In response to Santiago-Ramos' response that she was balancing her duties well and that she would have a second child," the court of appeals pointed out, "Mayberry questioned Santiago-Ramos' ability to fulfill her work responsibilities should she have a second child." "The subject matter of Mayberry's comments (Santiago-Ramos' ability to work as a mother)," together "with the timing of Santiago-Ramos' dismissal (just two weeks after Mayberry made the comments)," the appellate court reasoned, constituted evidence of sex discrimination and evidence that Santiago-Ramos' sex was the "actual reason" for her termination. Thus, the First Circuit concluded that Santiago-Ramos was entitled "to present her sex discrimination case at trial."
Free Consultation For Discrimination Victims
One of the most important decisions employment discrimination victims must make is which labor law attorneys to consult with regarding their employee rights and remedies under federal employment discrimination law. As part of our dedication to helping employment discrimination victims, an experienced labor law attorney will speak with you personally and you will receive the individualized attention your case deserves. We offer free confidential case evaluations for employees, and you will not have to pay to speak with our labor law attorneys regarding your rights. We are available for consultation at your convenience, including scheduling telephone consultations for evenings and weekends.
Marion County, FL Labor Law Lawyers
Based in Ocala, Florida and representing workers throughout Florida, our labor law attorneys in Marion County, Florida have dedicated their practice to representing employment discrimination victims. If you have experienced discrimination in the workplace or have questions about discriminatory sex-based stereotyping, please contact our office for a free consultation with our labor law lawyers in Marion County, Florida. Our employee rights law firm takes employment discrimination cases on a contingency fee basis. This means that there are no attorney's fees incurred unless there is a recovery and our attorney's fees come solely from the monetary award that you recover.