Pregnancy Discrimination Based on Failure to Accommodate Fitness Test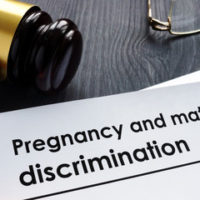 Title VII of the federal Civil Rights Act of 1964 prohibits employers from discriminating against women on the basis of pregnancy, childbirth, or other related medical conditions. The Pregnancy Discrimination Act of 1978 amended Title VII to definitively establish that pregnancy discrimination in the workplace is a form of sex discrimination. Employers may not discriminate based on pregnancy in any aspect of employment including hiring, payment, bonuses or benefits, leave, or requirements for continued employment. A federal judge recently ruled to allow the pregnancy discrimination case to move forward to trial in which the plaintiff alleged that she was treated differently with regard to certain fitness requirements as a result of her pregnancy.
Employee Fails Fitness Exam Due to Pregnancy Complications
The case ofThomas v. Florida Parishes Juvenile Justice Commission involves a Juvenile Staff Detention Officer's claim that her employer refused to accommodate her during her pregnancy. The employer is a juvenile detention facility. JDS Officers are required to complete a bi-annual fitness test of several exercises including a 1.5 mile run, with gender-specific proficiency requirements for each element.
The plaintiff had been working for the facility for 10 years when she became pregnant. On April 1, 2016, when she was 6 weeks pregnant, she informed the Human Resources Director of her pregnancy and asked to take the fitness test early. The Director allowed her to complete most of the test components on April 1 but forced her to finish the 1.5 mile run on the regularly-scheduled date of April 21, 2016. The plaintiff took the test on April 21, failed, and began to feel ill. She went to the emergency room on April 29, was diagnosed with a placental bleed and was placed on bed rest. She informed her superiors with a doctor's note that she could not do the scheduled re-test on May 5. She took personal leave for 2 weeks, and upon returning to work she was scheduled for a fitness retest on June 6.
Pregnancy Did Not Excuse the Fitness Test, Even Though Other Disabilities or Ailments Would
The plaintiff's doctor provided a note that strongly advised avoiding extensive running and heavy lifting due to pregnancy complications. Her supervisor told her that she would still be required to take the test, as the facility had a policy of requiring pregnant women to take the fitness test regardless of a doctor's note. Employees with other limitations were routinely excused from the test with a doctor's note. At her supervisor's advice, she did not provide the doctor's note. She instead attempted and failed the test, which led to another emergency room visit. Shortly thereafter her doctor later ordered her on bedrest. She went on leave for the next year and then returned to continue working at the facility.
Court Finds Disparate Treatment and Failure to Accommodate Even Though the Plaintiff Was Not Fired
The JDS Officer sued the facility alleging pregnancy discrimination under Title VII. She claims they failed to accommodate her pregnancy and treated her differently than people with other physical limitations in the same situation. The court agreed that, based on the evidence, she had established a prima facie case that she was treated adversely because of her pregnancy and was treated differently from other employees with similar physical limitations due to non-pregnancy causes.
The plaintiff did not need to establish a specific adverse employment action, such as being fired, in order to make a "failure to accommodate" claim under federal discrimination law. Moreover, she suffered physical injury as a result of the failure to accommodate (that is, due to being forced to run), after which she had to file for workers' compensation and received reduced pay due to her extended leave. The court ordered that the case would not be dismissed and would instead proceed to trial to determine the full validity of her claims.
Free Consultation with Marion County Discrimination Lawyers
Based in Ocala, Florida and representing employees throughout Central Florida, we have almost twenty years of experience representing employees who have been the victims of discrimination and harassment in the workplace. If you have been subjected to discrimination or harassment at work or have questions about your rights as an employee, please contact our office for a free consultation with our Marion County, Florida employment discrimination attorneys. Our employee rights law firm takes employment discrimination and harassment cases on a contingency fee basis. This means that there are no attorney's fees incurred unless there is a recovery, and our attorney's fees come solely from the monetary award that you recover.