Pregnant Women Who Are Able To Work Must Be Allowed To Work Under Their Same Terms & Conditions Of Employment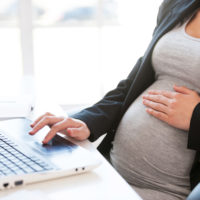 The Pregnancy Discrimination Act (PDA) forbids employers from discriminating against women on the basis of pregnancy. Having represented working women victimized by pregnancy discrimination for more than 15 years, our Central Florida employment law attorneys have learned that employers frequently try to change the terms and conditions of pregnant employees' employment even though they are capable of doing their jobs. A recent decision by the U.S. District Court for the Western District of Pennsylvania in E.E.O.C. v. Bob Evans Farms, LLC, 2017 WL 3531562 (W.D. Pa. August 17, 2017) illustrates that employers cannot change the terms and conditions of a pregnant employee's employment because she is pregnant and will at some point give birth so long as she is capable of doing her job.
Pregnant Employee Relegated To Fill-In Part-Time Employee
In that case, the U.S. Equal Employment Opportunity Commission (EEOC), which is the federal agency responsible for enforcing the PDA, brought a pregnancy discrimination claim on behalf of Hayley Nadalin Macioce (Macioce) against Bob Evans Farms, LLC (Bob Evans). Macioce worked as a server at Bob Evans' restaurant in West Mifflin, Pennsylvania.
In July 2014, Macioce was pregnant with her due date in September 2014. In mid-July 2014, the General Manager asked her when she planned to take a leave of absence due to her pregnancy. Macioce informed the General Manager that she would work until she had the baby. Although Macioce told him that she was going to work up until she gave birth, the General Manager took Macioce out of the automated scheduling system so that she would not continue to be automatically scheduled. Despite never asking Macioce her due date, the General Manager indicated that he took Macioce out of the automated scheduling system because Macioce was pregnant, and he believed her need for leave was "imminent" and that delivery of her child "could happen every day."
After she was removed from the automatic scheduling system, Macioce did not have any scheduled shifts and did not work unless she could find an available shift due to a "hole" in the schedule or because a scheduled employee was unable to work. Consequently, the General Manager effectively changed Macioce's terms and conditions of employment from that of a regularly scheduled part-time shift server to a fill-in part-time shift server. Because of her reduction in shits, Macioce's level of work declined resulting in a reduction in compensation. After having her baby, Macioce decided not to return to work at Bob Evans 
Pregnancy Discrimination Proven Without Jury Trial
The EEOC filed a motion with the trial court asking the trial court to find that Bob Evans was liable for pregnancy discrimination as a matter of law and requesting entry of a judgment against Bob Evans without the necessity of a jury trial on liability. In granting the EEOC's motion and finding Bob Evans liable for pregnancy discrimination, the trial court observed that "[i]t is the rare lawsuit in which the record entitles a plaintiff to the grant of summary judgment in its favor."
At the outset of its opinion, the trial court pointed out that "[o]ne specific congressional goal in passage of the PDA was to make it unlawful to force pregnant women who were not unable to work to take leave that they had not requested." The trial court noted that Macioce had not requested any leave and told the General Manager that she intended to work up until she gave birth. Instead of allowing her to continue to work under the same terms and conditions, the General Manager removed Macioce from automatic scheduling system "because she was pregnant and he believed her need for leave because of child birth (and nothing else) was imminent." In other words, the trial court explained, the General Manager relegated Macioce to a fill-in part-time shift server based on his perception that her attendance was "unpredictable based solely on her pregnancy."
Subjecting a pregnant employee to an adverse employment action based on an assumption that her attendance will be "unpredictable" because of pregnancy, the trial court reasoned, "is just the type of stereotypical judgment that Congress legislated against by enacting the PDA." Thus, the trial court determined, the "unpredictability here amounts to nothing more than a proxy for the only thing theoretically generating it— Macioce's pregnancy." Therefore, the trial court concluded, "[a]n employment action taken based on the assumption that a woman will at some future date need leave (even unpredictably) because she is pregnant, including for childbirth, directly demonstrates the discriminatory motive for the action."
Consult With Ocala Pregnancy Discrimination Lawyers
Based in Ocala, Florida and representing employees throughout Central Florida, we have more than fifteen years of experience representing employees who have been the victim of pregnancy discrimination in the workplace. If you have been the victim of pregnancy discrimination or have questions about your rights as a pregnant employee, please contact our office for a free consultation with our Central Florida pregnancy discrimination attorneys. Our employee rights law firm takes pregnancy discrimination cases on a contingency fee basis. This means that there are no attorney's fees incurred unless there is a recovery and our attorney's fees come solely from the monetary award that you recover.