Pregnant Worker Claims She Was Fired In Retaliation For Asking To Be Treated Same As Other Employees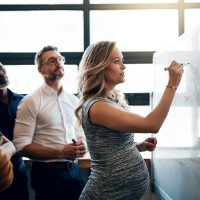 For more than twenty years, our Marion County, Florida wrongful termination lawyers have represented employees who have been retaliated for exercising their employee rights. Having represented retaliation victims for decades, our Ocala, Florida wrongful termination attorneys know employees who complain about workplace discrimination are often targeted for retaliation. As the U.S. Supreme Court in Crawford v. Metropolitan Gov. of Nashville & Davidson County, 555 U.S. 217 (2009) observed, "fear of retaliation is the leading reason why people stay silent instead of voicing their concerns about bias and discrimination." In far too many cases, employees who exercise their employee rights by lodging discrimination complaints are subjected to negative performance evaluations, demotion, reduction in pay or hours, suspension, and ultimately termination. In this article, our Marion County, Florida wrongful termination lawyers explain how the alleged facts in Pace v. Town and Country Veterinary Clinic, P.C., Case No. 3:20-cv-279 (N.D. N.Y. Aug. 1, 2022) are illustrative of why federal employment discrimination protects employees who complain about workplace discrimination.
Wrongful Termination Lawsuit
In that case, a woman named Pace brought a retaliation case against her former employer, Town and County Veterinary Clinic, P.C. (the Clinic), pursuant to Title VII of the Civil Rights Act (Title VII). Title VII, as amended by the Pregnancy Discrimination Act (PDA), prohibits employers from discriminating against women on the basis of pregnancy, childbirth, or related medical conditions. In order to protect employment discrimination victims, Title VII, as amended by the PDA, contains an anti-retaliation clause which prohibits employers from retaliating against employees who complain about perceived pregnancy discrimination in the workplace. Pace claims that she was unlawfully retaliated against for complaining about pregnancy discrimination.
The Clinic is a veterinary clinic. In March 2018, Pace was hired by the Clinic as an associate veterinarian. In mid-September 2019, Pace informed the Clinic that she was pregnant. Pace contends that, at this time, she also requested accommodations from "upper management" regarding her pregnancy. Pace alleges that, following the announcement of her pregnancy, her compensation was converted from salaried to hourly in October 2019 and that this conversation was "a direct result of her pregnancy."
Pregnancy Discrimination Complaint
On October 15, 2019, Pace had a meeting with the Clinic's business manager, Hebert, and subsequently engaged in an email exchange from October 16, 2019 through October 21, 2019, regarding her compensation. In this email exchange, Pace stated that she "couldn't help feeling a bit discriminated against," and that she wanted to be "treated [the same] as all of [the Clinic's] other hourly employees." Two days after Pace sent her October 16, 2018 email complaining about unfair treatment because of her pregnancy, Pace was stripped of her managerial duties. On January 2, 2020, Pace again requested pregnancy-related accommodations from the Clinic, with a supporting note from her doctor. Pace requested accommodations a third time on January 10, 2020.
On January 3, 2020, a manager, Sousa, met with Pace to discuss these accommodations. The Clinic alleges that, at this meeting, Pace "became irate, asked if her schedule was covered, and abruptly left the meeting," and, subsequently failed to return to the Clinic. Pace, however, contends that she acted professionally during this meeting, but was nonetheless suspended from the Clinic without pay, and given the following ultimatum: "come back to work without any restrictions or go out on full-time disability leave." Pace further alleges that her suspension was the reason she did not go to work, but she arranged coverage for her scheduled shifts.
The Clinic contends that shortly after Pace's suspension, the Clinic discovered that Pace "had engaged in a pattern of failing to update patient records documenting the results of physical examinations in the veterinary software system," and that this, along with Pace's failure to show up for work, led to her ultimate termination on January 13, 2020. Pace disputes the accuracy of this account, maintaining that the only reasons she failed to submit the required documentation was because she did not have physical access to the Clinic's systems after her suspension.
Evidence Of Retaliation
The Clinic filed a motion with the trial court seeking dismissal of Pace's retaliation claim. In denying the Clinic's motion for dismissal, the trial court found that a reasonable jury could conclude that the Clinic's explanations for the adverse employment action were a pretext for retaliation against Pace for complaining about perceived pregnancy discrimination.
The trial court explained that the Clinic maintains that Pace behaved unprofessionally in the meeting regarding her requested pregnancy accommodations, "did not appear for work and did not obtain coverage for her shifts, and failed to complete patient documentation, and, that these actions lead to her ultimate termination. However, the trial court pointed out, Pace claims that she was professional in the meeting regarding her requested pregnancy accommodations, that she was specifically instructed not to come to work on the days that the Clinic alleges that she "did not appear," and that she still confirmed that her shifts would be covered by other employees. The trial court also observed that "with respect to her alleged failure to complete certain documentation relate to patients, Pace provides evidence that this failure was due to the fact that she was suspended without pay and therefore could not complete this task, but otherwise would have."
Marion County, FL Wrongful Discharge Lawyers
Based in Ocala, Florida and representing workers throughout Florida, our wrongful termination attorneys in Marion County, Florida have dedicated their practice to fighting for the rights of wrongful termination victims. If you have been wrongfully terminated or have questions about your rights as a wrongful termination victim, please contact our office for a free consultation with our wrongful termination lawyers in Marion County, Florida. Our employee rights law firm takes wrongful termination cases on a contingency fee basis. This means that there are no attorney's fees incurred unless there is a recovery and our attorney's fees come solely from the monetary award that you recover.