Proving A Discriminatory Discharge When An Explanation Is Insufficient To Warrant Termination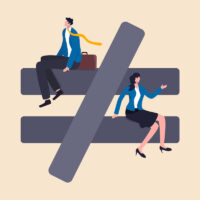 Over the past twenty years, our Leesburg, Florida discrimination lawyers have represented Florida employees who have been fired for a discriminatory reason. Through their extensive experience representing discriminatory discharge victims, our Lake County, Florida discrimination attorneys know that a common employment law myth is that discriminatory discharge cases cannot be proven simply by showing that an employer's explanation for terminating an employee is insufficient to warrant termination. In some cases, however, employees can prove that they were fired for a discriminatory reason by showing that the employer's justification for the discharge is insufficient to warrant termination.
The most common circumstances where an employer's explanation for firing an employee is insufficient to warrant termination are when the employer terminates an employee for engaging in conduct that other employees have engaged in but were never fired for. Under such circumstances, the employer is treating the discharged employee differently and less favorably from other employees. As the U.S. Supreme Court observed in International Bhd. of Teamsters v. United States, 431 U.S. 324 (1977), "[p]roof of a discriminatory motive can in some situations be inferred from the mere fact of differences in treatment."
In this article, our Leesburg, Florida discrimination lawyers explain how the recent decision by the U.S. District Court for the Western District of Michigan in Treynor v. Knoll, Inc., Case No. 1:19-cv-00753 (W.D. Mich. Feb. 16, 2021) demonstrates that an employee can prove a discriminatory discharge case with evidence showing that an employer's articulated reason for firing the employee is insufficient to warrant termination.
Age Discrimination Lawsuit
In that case, Larry Craig Treynor (Treynor) brought an age discrimination lawsuit against his former employer, Knoll, Inc. (Knoll), pursuant to the Age Discrimination in Employment Act (ADEA). Treynor claims that Knoll unlawfully discriminated against him in violation of the ADEA by firing him on the basis of age. When his employment was terminated, Treynor was sixty-three years old. The individual hired to replace Treynor was about twenty years younger.
Knoll manufactures furniture. In January 2014, Knoll hired Treynor to be the Maintenance and Facilities Supervisor for its plant in Kentwood, Michigan. One function of his role in this position was to order maintenance services from outside vendors to keep the Kentwood plant operating. However, Treynor was only authorized to spend a certain amount of money. Invoices that were less than the authorization limit could be approved by Treynor and submitted to Knoll's accounts payable department. Invoices exceeding Treynor's authorization had to be submitted to his supervisor for review and approval before being sent to accounts payable.
Employee Claims Fired Because Of Age
Knoll often failed to pay vendors on time. Those vendors would refuse to provide additional parts or labor until outstanding invoices were paid, leading to risks that the Kentwood plant would be temporarily shut down. Many blamed the slow pace of approving charges that exceeded expense authorizations. Those employees who had spending authorizations developed a work-around: they would split an invoice exceeding their authorization into multiple smaller invoices that fell within the authorization, and then submit those smaller invoices to accounts payable to ensure prompt payment. Treynor claims that invoice-splitting was standard practice at the Kentwood plant. Treynor's supervisor from 2014 until 2016, a man named Lenor, approved of invoice splitting.
In 2016, a man named Dykehouse became Treynor's supervisor. Treynor asserts that, like Lenor, his new supervisor was aware of invoice-splitting. On September 27, 2018, however, Dykehouse asked Treynor about invoices for a company, TMI, that performed emergency repairs at the Kentwood plant. After Treynor told Dykehouse that he had split up the invoices, Dykehouse instructed Treynor to stop splitting invoices. From that point on, according to Treynor, he stopped splitting invoices. Despite complying with Dykehouse's instruction, Treynor maintains that Dykehouse decided to present the issue regarding the prior TMI invoices to Human Resources in November 2018 and feigned ignorance of their previous conversation about the invoices. That same month, Knoll fired Treynor for splitting up the TMI invoices.
Insufficient Justification Reflects Discrimination
Knoll filed a motion with the trial court seeking dismissal of Treynor's age discrimination claim. In support of its motion for dismissal, Knoll argued that the evidence established that Treynor was fired for a legitimate, non-discriminatory reason—splitting the TMI invoices—and not because of his age. The trial court denied Knoll's motion for dismissal and ruled that Treynor was entitled to proceed to a jury trial on the issue of whether he was fired on the basis of age in violation of the ADEA.
In denying Knoll's motion for dismissal, the trial court focused on Knoll's articulated reason for Treynor's termination. The trial court explained that one way for Treynor to establish that he was fired because of his age in violation of the ADEA was to show that Knoll's explanation for firing him "is insufficient to warrant termination." "Showing insufficient justification," the trial court observed, "ordinarily consists of evidence that other employees, particularly employees not in the protected class, were not fired even though they engaged in substantially identical conduct to that which the employer contends motivated its discharge [of the employee claiming discrimination]."
In applying this principle, the trial court found that, taking Treynor's assertions as true, "Knoll gives an implausible story of his termination." The trial court pointed out that "Treynor claims that splitting invoices to circumvent spending limits was standard practice, even encouraged, at the Kentwood plant." The trial court also noted that "Treynor states that Dykehouse knew other employees were splitting invoices in the same manner as he was." Although other employees "were invoice-splitting," the trial court explained, "only Treynor was terminated." Based on this evidence, the trial court determined, a jury could reasonably fined that Treynor was fired because of his age "by concluding that Knoll's explanation is insufficient to warrant termination."
Free Labor Law Consultation
When confronted with workplace issues, one of the most important decisions employees have to make is which labor law attorneys to contact for legal advice. At our employee rights law firm, an experienced labor law attorney will speak with you personally and you will receive the individualized attention your case deserves. We offer free confidential case evaluations and you will never have to pay to speak with our labor law attorneys regarding your workplace issues.
The Villages, FL Discrimination Lawyers
Based in Ocala, Florida and representing employees throughout Central Florida, our Lake County, Florida discrimination lawyers have dedicated their practice to representing employment discrimination victims. If you have been discriminated against in the workplace or have questions about suing an employer for discrimination, please contact our office for a free consultation with our Leesburg, Florida discrimination attorneys.