Retaliatory Discharge Case Sent To Jury Where Employee Was Fired For "False" Discrimination Complaint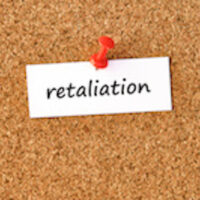 For more than two decades, our Alachua County, Florida retaliatory termination lawyers have represented Florida employees who have been fired in retaliation for complaining about discrimination the workplace. Through their extensive experience representing retaliation victims, our Gainesville, Florida retaliatory termination attorneys know that employers often defend retaliation cases by attempting to portray an employee who lodges a discrimination complaint as a disgruntled employee whose allegations of discrimination are either false or made in bad faith. Having characterized the discrimination complaint as false or made in bad faith, employers then argue that the employee is not protected from retaliation under the federal anti-discrimination. In this article, our Alachua County, Florida retaliatory termination lawyers explain how the decision in White v. Purolite Corp., Case No. 19-1736 (E.D. Pa. Sept. 4, 2020) demonstrates that when employers decide to fire an employee for making an allegedly false or bad faith discrimination complaint, they assume the risk that a jury will reject their characterization and find that the employee was fired in retaliation for making the discrimination complaint.
Allegedly Fired Because Of Discrimination Complaint
In that case, Richard White (White) brought a retaliatory termination case against his former employer, Purolite Corporation (Purolite), pursuant to Title VII of the Civil Rights Act of 1964 (Title VII). Title VII protects employees from retaliation when they complain about perceived race discrimination in the workplace. White claims that Purolite violated Title VII by terminating his employment in retaliation for lodging a race discrimination complaint.
White, who is African-American, began working for Purolite in September 2000. Immediately prior to his termination on March 11, 2019, White worked in the shipping department of Purolite's warehouse and was responsible for unloading and handling materials used in Purolite's chemical manufacturing process. As a warehouse worker, White was supervised by a warehouse manager, and the warehouse manager was supervised by a plant manager.
In January 2019, Purolite hired a new warehouse manager, Palmer. Palmer, who is white, was charged with resolving possible abuses of overtime by employees. The plant manager and human resources director specifically identified White to Palmer as an employee potentially abusing overtime. In 2018, for example, White had increased his annual salary by about $22,000 by working overtime. After taking charge, Palmer required pre-approval of all overtime and discouraged the use of overtime during weekends. White was unhappy about the changes, which he believed decrease his opportunity to earn overtime, especially overtime work on the weekends.
Alleged Race Discrimination In Overtime
On March 5, 2019, White complained to the plant director about what he perceived to be unequal distribution of overtime among employees. Specifically, White complained that Palmer was assigning more overtime to "lighter-skinned" employees than "darker-skinned" employees. White claims that, when he raised these concerns with the plant director, the plant director laughed and said "he found it hard to believe that Palmer was racist."
On March 7, 2019, before the company had completed its investigation into his race discrimination complaint, White again raised the overtime issue—this time, at a warehouse staff meeting. As the meeting ended, White asked Palmer, "Why is it that all the people with darker colored skin, overtime is being cut compared to people with lighter skin?" In response to White's comment, Palmer told White they needed to go immediately to HR. After meeting with White and Palmer, the human resources manager concluded that White's allegations of race discrimination were baseless and that White had made his accusations in bad faith. On March 11, 2019, the investigation being complete, the plant director and human resources manager decided to fire White. According to White, the human resources manager said, "we looked into your allegations and due to you made false statements . . . Purolite is terminating your employment."
Jury Decides Whether Complaint Was "False"
Purolite filed a motion with the trial court seeking dismissal of White's retaliatory termination claim. In doing to, Purolite argued that White was not protected from retaliation by Title VII because his race discrimination was false and made in bad faith. In support of its argument, Purolite claimed that White told other employees "I'm gonna get my weekends back, you just watch" before lodging his race discrimination complaint with the plant director. The trial court denied Purolite's motion for dismissal and ruled that it was for the jury to decide whether White's race discrimination complaint was false or made in bad faith.
At the outset of its opinion, the trial court pointed out that in order to be protected from retaliation under Title VII, an employee "need not prove the merits of the underlying discrimination complaint, but only that he was acting under a good faith, reasonable belief that a violation existed." In applying this standard, the trial court found that White was acting under a good faith, reasonable belief that "Purolite was discriminating against him when he raised concerns with [the plant director] and then confronted Palmer at the staff meeting." Under Title VII's reasonable, good faith standard, the trial court explained, "the fact that White's belief was incorrect is therefore immaterial."
In finding that White's retaliation case would be submitted to a jury for resolution, the trial court also pointed out that "if an employer chooses to fire an employee for making false or bad faith accusations, he does so at his peril, and takes the risk that a jury will later disagree with his characterization." In other words, the trial court explained, if a jury finds that White was acting under a reasonable, good faith belief that he was being discriminated against on the basis of race with respect to overtime, the jury could also find that Purolite unlawfully fired White in retaliation for making a race discrimination complaint and not because White made an allegedly "false" race discrimination complaint.
Gainesville, FL Lawyers For Retaliation Victims
Based in Ocala, Florida and representing employees throughout Central Florida, our Alachua County, Florida retaliatory termination attorneys have been fighting for employees' rights for more than twenty years. If an employer has retaliated against you for complaining about discrimination in the workplace or you have questions about your rights as a victim of retaliation, please contact our office for a free consultation with our Gainesville, Florida retaliatory termination lawyers. Our employment and labor law attorneys take retaliatory termination cases cases on a contingency fee basis. This means that there are no attorney's fees incurred unless there is a recovery and our attorney's fees come solely from the monetary award that you recover.