Sexual Harassment Victim Claims Retaliatory Firing When Others Not Fired For Engaging In Same Conduct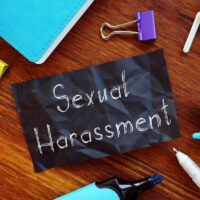 Having represented victims of retaliatory discharge for more than twenty years, our Marion County, Florida retaliatory discharge lawyers have learned that employers often target employees who complain about sexual harassment for termination by selectively enforcing company work rules against them. Seizing upon a sexual harassment complainant's violation of a company work rule, the employer justifies its termination decision by claiming that it was simply enforcing company policy, despite not firing other employees who never complained about sexual harassment and who violated the same company work rule. In this article, our Ocala, Florida retaliatory discharge lawyers explain how the decision in Encarnacion v. Isabella Geriatric Center, Inc., Case No. 11-cv-03757 (S.D. N.Y. Dec. 12, 2014) illustrates that an employer's selective enforcement of company policy when terminating a sexual harassment complainant is evidence that the employer harbored retaliatory animus against the employee for lodging a sexual harassment complaint and that the employee's sexual harassment complaint was the real reason for the termination decision.
Sexual Harassment Victim Lodges Complaint
In that case, Lenny Encarnacion (Encarnacion) brought a retaliatory discharge lawsuit against her former employer, Isabella Geriatric Center, Inc. (IGC), pursuant to Title VII of the Civil Rights Act of 1964 (Title VII). Encarnacion claimed that she was fired in retaliation for complaining about workplace sexual harassment in violation of Title VII. Title VII protects employees from sexual harassment at work. Title VII further protects employees from retaliation when they complain about perceived sexual harassment in the workplace.
IGC is a senior housing and elderly care facility in New York City. In 2002, Encarnacion began working for IGC as a certified nurse's assistant. In late 2003, Encarnacion filed a written complaint with the Vice President of Human Resources, a woman named Casey, alleging that an employee named Kochuplamootil had sexually harassed her. During the investigation, Kochuplamootil admitted to sexually harassing Encarnacion. Casey gave Kochuplamootil a verbal warning. Despite the verbal warning, Kochuplamootil began sexually harassing Encarnacion again in early 2005. Encarnacion filed another complaint with Casey, and IGC fired Kochuplamootil in February 2005.
Sexual Harassment Victim Fired
In December 2009, according to Encarnacion, another employee, a man named Santiago, exposed himself to her in the workplace. In February 2010, Encarnacion complained to Casey that Santiago had exposed himself to her. Encarnacion also filed a criminal complaint against Santiago, alleging that he had exposed himself to her on multiple occasions. In response to the criminal complaint, Santiago was arrested and ultimately pled guilty to disorderly conduct.
In April 2010, Encarnacion left the workplace on her lunch break without counting the narcotics under her control or turning in the key to the narcotics cabinet on her assigned floor. The next day, IGC fired Encarnacion on grounds that her behavior in failing to count the narcotics under her control and failing to turn in her key to the narcotics cabinet on her assigned floor constituted a violation of company policy.
Different Treatment Is Evidence Of Retaliation
IGC filed a motion with the trial court seeking dismissal of Encarnacion's retaliatory discharge claim. In moving for dismissal of the case, IGC argued that Encarnacion's violation of company policy constituted a legitimate, non-retaliatory reason to terminate her employment. In denying IGC's motion for dismissal and ruling that Encarnacion was entitled to bring her case before a jury, the trial court focused on IGC's treatment of other employees who violated the same company policy as Encarnacion. The trial court pointed out that Encarnacion testified that she knew of other nurses who were not fired for leaving the premises without counting narcotics or turning in their keys to the narcotics cabinet. The trial court also noted that Encarnacion offered testimony from two former IGC nurses who said that they had personally witnessed nurses leaving their narcotics keys many times. IGC's enforcement of its company policy against an employee who complained about sexual harassment but not against employees who did not complain about sexual harassment, the trial court concluded, was evidence that IGC's proffered explanation for firing Encarnacion was a pretext for retaliation.
Consult With Ocala, FL Retaliatory Discharge Lawyers
Based in Ocala, Florida and representing employees throughout Central Florida, our Marion County, Florida retaliatory discharge attorneys have dedicated their practice to fighting for the rights of employees who have been wrongfully fired. If you have been retaliated against for complaining about workplace discrimination or have questions about your protection from retaliation under the federal civil rights laws, please contact our office for a free consultation with our Ocala, Florida retaliatory discharge lawyers. Our labor law attorneys take retaliatory discharge cases on a contingency fee basis. This means that there are no attorney's fees incurred unless there is a recovery and our attorney's fees come solely from the monetary award that you recover.