Sexual Harassment Victim Claims She Was Fired For Rejecting Supervisor's Request To Get Drinks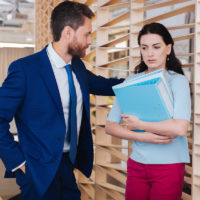 Having fought for the rights of sexual harassment victims for nearly twenty years, our Marion County, Florida sexual harassment lawyers have learned that quid pro quo sexual harassment remains a serious problem in the American workplace. Quid pro quo sexual harassment occurs when an employee's submission to or rejecting of a supervisor's sexual behavior, such as sexual advances or requests for sexual favors, is used as the basis for an employment decision affecting the victim. In Harris v. Forklift Systems, Inc., 510 U.S. 17 (1993), the U.S. Supreme Court characterized quid pro quo sexual harassment as "appalling" and "especially egregious." As explained by the U.S. Ninth Circuit Court of Appeals in Nichols v. Frank, 42 F.3d 503 (9th Cir. 1994), "most workers subjected to sexual pressure in the workplace have little means of defense—other than the law" because "for economic reasons, most workers cannot simply abandon their employment—new jobs are hard to find."
Employee Claims Quid Pro Quo Sexual Harassment
The alleged facts in the recent decision by the U.S. District Court for Colorado in Ingle v. Ieros, LLC, Case No. 1:18-cv-2759 (D. Colo. June 13, 2019) are illustrative of circumstances where a sexual harassment victim's continued employment is conditioned upon submitting to a supervisor's sexual advances. In that case, Jazmine Ingle (Ingle) brought a sexual harassment lawsuit against her former employer, Ieros, LLC (Ieros), pursuant to Title VII of the Civil Rights Act of 1964 (Title VII). Title VII protects employers against sexual harassment in the workplace. Ingle claimed that her supervisor subjected her to quid pro quo sexual harassment when he terminated her employment for refusing to submit to his sexual advances.
Ingle was employed by Ieros as an assistant manager. A man named Bigelow was Ingle's direct supervisor. In August 2015, Bigelow invited Ingle to a "pool day," which Ingle considered to be an invitation for a romantic date. Ingle refused the invitation. In September 2015, Ieros hired a man named Seymour, who was dating Ingle at the time. The relationship was initially unknown to Bigelow. In February 2016, Bigelow discovered that Ingle and Seymour were dating. Shortly after learning of the relationship, Bigelow terminated Seymour. That same day, Bigelow asked Ingle if she wanted to go out for drinks after work. Ingle took this as an invitation for a romantic date and declined the offer.
On March 4, 2016, Bigelow suspended Ingle after she told Bigelow "to stop discussing her relationship with Seymour with other employees" and told Bigelow that "you're my manager, not my friend." On March 8, 2016, Bigelow terminated Ingle's employment. When Ingle received her final paycheck a few days later, the paycheck was accompanied by three records of disciplinary action describing events that took place on February 15, March 1, and March 4. Two of those records included "agreed upon improvement plans." Ingle alleged that she "never agreed upon any improvement plan because she did not find about the plans or records until after she was fired."
Request To Get Drinks Was Sexual In Nature
Ieros filed a motion with the trial court seeking dismissal of Ingle's sexual harassment claim. In support of its motion, Ieros argued that Bigelow's request to Ingle to get drinks after work was a social invitation that was not a form of sexual harassment. The trial court rejected Ieros' argument and ruled that Ingle had stated a claim for quid pro quo sexual harassment under Title VII. The trial court found that Bigelow's offer to get drinks, in the context of the facts alleged by Ingle, was sexual in nature. The trial court further found that Ingle had established a causal relationship between her rejection of Bigelow's offer and her termination because Bigelow terminated her employment a few weeks after she rejected the offer. The trial court reasoned that the closing timing between Ingle's rejection and Ingle's termination was sufficient to establish that Bigelow conditioned Ingle's continued employment on her accepting his offer. 
Free Consultation With Ocala Sexaul Harassment Lawyers
Based in Ocala, Florida and representing employees throughout Central Florida, our Marion County, Florida sexual harassment attorneys have litigated sexual harassment lawsuits for almost twenty years. If you have been sexually harassed at work or have questions about quid pro quo sexual harassment, please contact our office for a free consultation with our Marion County, Florida sexual harassment attorneys. Our employment and labor law attorneys take sexual harassment cases on a contingency fee basis. This means that there are no attorney's fees incurred unless there is a recovery and our attorney's fees come solely from the monetary award that you recover.