A Common Method Of Age Discrimination: Employer Sets Up Older Worker To Fail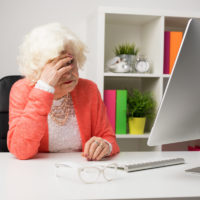 Having fought for workers' rights for almost twenty years, our Citrus County, Florida age discrimination lawyers know that age discrimination remains a serious problem in the American workplace. As the U.S. Seventh Circuit Court of Appeals observed in Graefenhain v. Pabst Brewing Co., 827 F.3d 13 (7th Cir. 1987), the U.S. Congress enacted the Age Discrimination in Employment Act (ADEA) "because many employers or younger business executives act as if they believe there are good business reasons for discriminating against older employees." Although the ADEA was passed more than fifty years ago, employers continue to target older workers for termination. When doing so, a tactic commonly used by employers is to set up older workers to fail. The facts in Shager v. Upjohn Company, 913 F.2d 398 (7th Cir. 1990) are illustrative of the use of this tactic by a supervisor with hostility towards older workers.
Older Worker Assigned Worst Sales Territory
In that case, Ralph Shager (Shager) brought an age discrimination lawsuit against his former employer, the Asgrow Seed Company (Asgrow), and its successor company, Upjohn Company, pursuant to the ADEA. Shager claimed that Upjohn fired him because of his age in violation of the ADEA. Shager was fifty-two years old when his employment was terminated.
Asgrow, a manufacturer of seeds, employed Shager as a sales representative in Wisconsin. Shager reported to Lehnst. Lehnst, who was in his mid-thirties, was Asgrow's youngest district manager and was in charge of the company's sales representatives in several states. Asgrow eventually hired another sales representative for Wisconsin, Stouffer. Stouffer was forty-eight years old, and Lehnst, disturbed by the disparity in ages between himself and most of his subordinates, asked Stouffer several times during the pre-hire interview whether he would mind being supervised by a younger man. After Stouffer was hired, Lehnst divided the Wisconsin territory into a northern and southern part. The northern part was considered less promising because of a lower demand for seeds. Lehnst assigned the northern part to Shager and the southern part to Stouffer.
Older Worker Outperforms Younger Worker
Shortly after dividing the Wisconsin territory, Lehnst hired a third Wisconsin sales representative, Schradle. Schradle was twenty-nine years old and had no previous experience in the seed business. Wisconsin was not generating enough business to justify a third sales representative and Lehnst anticipated having eventually to eliminate one. In re-dividing the territories, Lehnst gave Shager the northern part and eliminated some of its best areas, assigned Stouffer the southeastern part, and gave Schradle the southwestern part plus several counties in Illinois. Schradle's territory was considered the best of the territories.
Although the division made it difficult for Shager to reach the sales goals set for him by Lehnst, he not only reached but surpassed them, while Schradle failed to meet the more modest sales goals that Lehnst had set for him. In fact, Schradle's total sales were far below Shager's despite the difference in sales potential between the two territories. Nevertheless, in the next semi-annual written evaluation, Lehnst rated Shager's performance as marginal, but then made excuses for Schradle's poor performance, such as a poor harvest the previous season and his lack of experience in the seed business. Lehnst then placed Shager on probation for alleged deficiencies in collecting accounts receivable from customers in his territory. When the alleged deficiencies continued, Lehnst recommended that Shager be fired. Acting on Lehnst's recommendation, a "Career Path Committee," which reviews personnel actions, terminated Shager's employment.
Supervisor With Hostility Towards Older Workers
Shager maintained that Lehnst set him up to fail by assigning him the territory with the worst sales potential because of Lehnst's hostility towards older employees. Lehnst had remarked to a younger salesperson, "these older people don't much like or much care for us baby boomers, but there isn't much they can do about it." Lehnst was also heard to make frequent comments to the effect that "the old guys know how to get around things." And in Schradle's first performance evaluation, Lehnst wrote: "it is refreshing to work with a young man with such a wonderful outlook on life and his job."
Employee Set Up To Fail Because Of His Age
The trial court dismissed Shager's age discrimination claim. On appeal, the Seventh Circuit reversed the trial court's decision and reinstated Shager's age discrimination claim. In doing so, the appellate court focused on the fact that Lehnst "set up Shager to fail by assigning him an unpromising territory" based on his "hostility to older workers." When viewed through the prism of this evidence, the court of appeals explained, Shager's plight "becomes a case in which a younger supervisor predominantly of much older workers, uncomfortable with that disparity in age between him and them, hires a younger worker in the hope of replacing one of the older workers with him." Then, despite the older worker's "good sales performance in an unpromising territory," the younger supervisor "comes down hard on the older workers' deficiencies while supplying excuses for the greater deficiencies of the younger worker." Then, after treating the older worker worse than the younger one, the younger supervisor "finally persuades his supervisors to endorse his decision to fire the older worker." Based on this evidence, the Seventh Circuit concluded, a reasonable jury could find that Sahger was fired because of his age in violation of the ADEA.
Free Consultation With Inverness Age Discrimination Lawyers
Based in Ocala, Florida and representing employees throughout Central Florida, our Citrus County, Florida age discrimination attorneys have been in the trenches fighting for victims of employment discrimination for nearly twenty years. If you have been discriminated against on the basis of age or have questions about being set up to fail because of your age, please contact our office for a free consultation with our Citrus County, Florida age discrimination lawyers. Our employee rights law firm takes age discrimination cases on a contingency fee basis. This means that there are no attorney's fees incurred unless there is a recovery and our attorney's fees come solely from the monetary award that you recover.