Should Workers Ask HR Representatives Questions During Their Termination Meeting?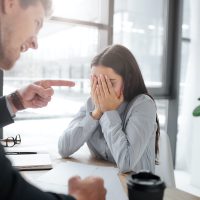 Having litigated wrongful termination cases in Florida courts for more than two decades, our wrongful termination lawyers in Marion County, Florida know many employees are informed of their termination during a terminating meeting conducted by a Human Resources ("HR") employee. In the context of a termination meeting, employees generally should ask the HR employee to provide an explanation for the termination. When asking for an explanation for the termination, employees generally should also ask the HR employee to provide examples of what they did wrong, such as performance or behavioral problems, to warrant the termination.
In asking such questions, employees are forcing HR employees to say more than they want to say and more than they intended to say. Because HR employees generally will only have cursory information or knowledge regarding the employment of the terminated employee, the more HR employees talk, the more likely HR employees will say something that can be used as evidence against the employer in proving a wrongful termination case. For example, HR employees may make factual misstatements, statements undermining a reason for the termination, statements demonstrating a flawed investigation used in justifying the termination, or statements revealing the role of a biased employee in the termination.
In this article, our wrongful termination lawyers in Marion County, Florida explain how the decision in Richmond v. Montefiore Medical Center,2023 WL 6216271 (S.D. N.Y. Sept. 25, 2023) illustrates that statements made by HR employees during a termination meeting can be used as evidence against the employer in proving a wrongful termination case.
Wrongful Termination Lawsuit
In that case, a woman named Richmond brought a wrongful termination claim against her former employer, Montefiore Medical Center ("MMC"), pursuant Title VII of the Civil Rights Act ("Title VII"). Title VII forbids employers from discriminating against employees on the basis of sex. Richmond claims that she was fired because of her sex in violation of Title VII.
Richmond is a registered nurse. She worked for MMC from 1990 to 1993, and then again from 1999 until her termination in November 2019. In 2012, Richmond was promoted to the position of Senior Vice President and Chief of Staff, and in 2014 to the position of Executive Vice President, Chief of Staff. Thereafter, her title was changed to Executive Vice President, Chief Strategy Officer, which was her role when her employment was terminated.
The trial court noted that the "parties dispute the quality of Richmond's job performance" at MMC. "There is evidence," according to the trial court, "both that she was an incompetent bully, and that she was an inspiring and versatile leader." For example, the new CEO, Ozuah, testified that Richmond was disorganized, a poor communicated, and a bully, and that he "concluded that she had no value to bring to [his] administration." MMC also submitted affidavit testimony from numerous MMC fellow executives and those she supervised stating that she "struggled in her role," "had poor leadership skills," was not "competent or capable of doing the job," and was "extremely difficult to work with."
A 2016 review of Richmond's compensation, however, states that the "scope and diversity of her responsibilities [are] nearly unmatched when compared to similarly situated health care positions across the country." And during her twenty-three years at MMC, Richmond was repeatedly promoted, received "quite excellent" performance reviews, and received discretionary bonuses for superior job performance from 2015 through 2018. A former CEO, who worked closely with Richmond for several years, testified that she did "important and excellent" work on, among other things, MMC's acquisitions, and that he repeatedly promoted her because of her qualifications and continued superior job performance.
"Soft Exits" For Male Executives
Richmond contends that "in the last couple years of her employment, Ozuah was always critical and demeaning toward her," interrupting her presentations, yelling at her, and repeatedly criticizing her in public. Richmond maintains that this conduct as motivated by her gender because she observed Ozuah publicly criticize another female executive, but never male executives. Richmond also contends that MMC granted "soft exits" to "numerous departing executives." When a male executive's tenure was nearing its end, instead of demanding his resignation or firing him, MMC continued to employ the executive for several more years in a reduced role as an "advisor" or "consultant" pursuant to a new contract.
In mid-November 2019, Ozuah took over as CEO. Within his first week as CEO, Ozuah fired Richmond. Before firing Richmond, Ozuah allegedly called MMC's Chief Human Resources Officer and told him, "Let's make it hurt." On November 20, 2019, Richmond was called into a meeting with Ozuah and the Chief Human Resources Officer, at which Ozuah fired her. The termination was "for cause" as defined in Richmond's employment agreement, and the Chief Human Resources Officer purportedly told Richmond at the meeting that she "did nothing wrong."
Terminated Worker "Did Nothing Wrong"
MMC filed a motion with the trial court seeking dismissal of Richmond's wrongful termination claim. In moving for dismissal, MMC argued that the evidence established that Richmond was fired for legitimate, non-discriminatory reasons, including poor work performance and practice of bullying subordinates. The trial court denied MMC's motion for dismissal and found that Richmond "has proffered evidence" showing that MMC's "alleged legitimate reasons for terminating her employment are pretextual." In supporting of its finding, the trial court pointed to the Chief Human Resources Officer's alleged statement during the termination meeting that Richmond "did nothing wrong." In further support of its finding, the trial court also pointed to Richmond's "long and successful career" at MMC, including her "record of repeated promotions" and "excellent performance reviews and bonuses." Based on this evidence, the trial court concluded that a reasonable jury could find that Richmond was fired because of her sex in violation of Title VII.