Supervisor Told Employee With Disability Under American's With Disabilities Act Not To Die At His Desk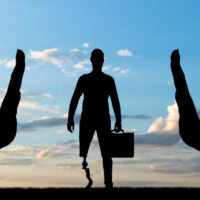 The American's with Disabilities Act (ADA) protects employees from discrimination on the basis of disability. Having extensive experience representing employees who have been subjected to disability discrimination, our Marion County, Florida disability discrimination attorneys have learned that employers frequently target employees who have a disability within the meaning of the ADA for abusive treatment. The decision by the U.S. District Court for the Northern District of Illinois in Baker v. Rohr-Mont Motors, Inc., 175 F.Supp.3d 1000 (N.D. Ill. 2016) is instructive in showing that when an employee is subjected to abusive remarks relating to his or her disability, the abusive behavior can be used to prove that the employee was terminated on the basis of disability in violation of the ADA.
Employee Abused After Revealing Heart Condition
In that case, Terry Baier (Baier) claimed that his former employer, Rohr-Motors, Inc., d/b/a Oakbrook Toyota (Oakbrook Toyota), fired him on the basis of disability in violation of the ADA. Baier was employed by Oakbrook Toyota as a General Sales Manager. During his employment, Baier was diagnosed with a damaged aortic valve and underwent open heart surgery. Following the surgery, Baier took a leave absence from work under the Family Medial Leave Act in order to recover from the surgery. 
When he returned to work, Baier had a visible heart pack containing a defibrillator that his doctors required him to wear. Baier also returned to work with restrictions, including that he would work for only limited periods of time and that he would limit his total weekly hours. Although Baier provided letters from his doctors regarding his restrictions and explained his limited work hours to his supervisor, the supervisor, an employee named Syed, believed that he had no obligation to make sure that Baier did not work more than 40 hours per week. Syed also repeatedly asked Baier how long it would take until he was "100 percent." After Baier complained about having to work until midnight, Syed told Baier, "that's your job." When Syed went on vacation, an employee named Barrett replaced Syed as Baier's supervisor. Shortly after becoming his supervisor, Barrett told Baier, "don't die at the desk or I am going to drag you outside and throw you in a ditch next to the road."
Less than two weeks after Baier returned to work after his open heart surgery, Oakbrook Toyota's owner threatened to demote Baier. Until then, Baier had never been subjected to any disciplinary action. When Baier came to work the next day expecting to be demoted, Barrett instead fired Baier. Barrett claimed that he decided to fire Baier because of his record of substandard behavior and use of profanity with a new salesperson. After he fired Baier, Barrett told another employee that there was no way that Baier "was going to drop dead on my watch at Oakbrook Toyota" and, if he did, Barrett would take him across the street to the country club and put him there.
Abusive Comments Are Evidence of Discrimination
Oakbrook Toyota filed a motion with the trial court seeking dismissal of Baier's disability discrimination claim. In doing so, Oakbrook Toyota asked the trial court to find that Baier's disability discrimination claim failed as a matter of law and Baier was prohibited from presenting his disability discrimination claim to a jury. The trial court denied Oakbrook Toyota's motion. The trial court found that Barrett's abusive remarks related to Baier's disability and were evidence that Baier was fired because of his disability within the meaning of the ADA. The trial court also found the fact that Oakbrook Toyota fired Baier shortly after he revealed that he had a heart condition, took leave for open heart surgery, and then asked for work restrictions upon his return because of his heart condition was additional evidence of disability discrimination. This evidence, the trial court concluded, enabled Baier to present his disability discrimination to a jury for resolution. 
Free Consultation With Ocala Disability Discrimination Lawyers
Based in Ocala, Florida and representing employees throughout Central Florida, we have extensive experience representing employees who have been the victims of disability discrimination. If you have been discriminated against on the basis of a disability or have questions about abusive comments relating to your disability, please contact our office for a free consultation with our Marion County, Florida disability discrimination attorneys. Our employee rights law firm takes disability discrimination cases on a contingency fee basis. This means that there are no attorney's fees incurred unless there is a recovery and our attorney's fees come solely from the monetary award that you recover.