The Americans With Disabilities Act Forbids Employers From Making Disability-Related Inquiries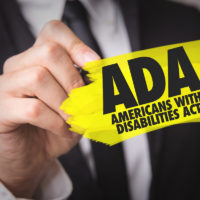 The Americans with Disabilities Act (ADA) protects employees from discrimination on the basis of disability. Under the ADA, employers are prohibited from making disability-related inquiries regarding an employee's health. More specifically, the ADA provides that an employer "shall not require a medical examination and shall not make inquiries of an employee as to whether such employee is an individual with a disability or as to the nature or extent of the disability, unless such examination is shown to be job-related and consistent with business necessity." 
ADA's Protection Against Disability-Related Inquiry
The ADA's protection against a disability-related inquiry is intended to prevent inquiries of employees that do not serve legitimate business purposes. The employer bears the burden of proving job-relatedness and business necessity. In Conroy v. N.Y. State Dep't of Corr. Servs., 333 F.3d 88 (2d Cir. 2003), the U.S. Second Circuit Court of Appeals ruled that the employer must show that the disability-related inquiry is "no broader or more intrusive than necessary" and is a "reasonably effective method" of achieving a business necessity. Whether an inquiry is job related and consistent with business necessary, as observed by the U.S. Tenth Circuit Court of Appeals in Milton v. Scrivner, Inc., 53 F.3d 1118 (10th Cir. 1995), is a fact-intensive inquiry.
As explained by the U.S. District Court of New Mexico in Gonzales v. Sandoval County, 2 F.Supp.2d 1442 (D. N.M. 1998), "the ADA's provision on prohibited inquiries stands alone so that a prohibited inquiry in and of itself may be a violation" of the ADA. This means, as the Gonzales court observed, that a prohibited inquiry claim, unlike a general discrimination claim under the ADA, does not require an employee to establish that the employer's proffered reason for an employment decision is a pretext for discrimination. Moreover, as determined by the U.S. Sixth Circuit Court of Appeals in Lee v. City of Columbus, 636 F.3d 245 (6th Cir. 2011), an employee claiming an allegedly improper medical inquiry need not prove that he or she has a disability within the meaning of the ADA. Consequently, an employee can bring an improper disability-related inquiry claim under the ADA despite the absence of allegations that he or she is disabled. 
Alleged Prohibited Disability-Related Inquiry
The recent decision by U.S. District Court for the Northern District of Texas in Mir v. L-3 Communication Integrated Systems, L.P., No. 15-2766 (N.D. Tex. Nov. 8, 2017) is instructive in showing the application of the ADA's prohibition against disability-related inquiries. In that case, Peter Mir (Mir) claimed that L-3 Communications Integrated Systems, L.P. (L-3 Communications) discriminated against him in violation of the ADA when it did not hire him. Mir further claimed that L-3 Communications made improper inquiries about the nature and severity of his visible physical limitations in violation of the ADA.
Mir has suffered from hip problems throughout his life and has had a number of surgeries on his right hip, including multiple hip replacement operations. In 2005, during his last hip replacement, the sciatic nerve on the right side of his hip was crushed, which caused permanent nerve damage. As a result, Mir walks with a pronounced limp and uses a cane to assist him in walking. 
In 2011, Mir applied for a Mechanical Design Engineer position with L-3 Communications. In October 2011, L-3 Communications interviewed Mir for the position. A department head at L-3 Communications named Grant met Mir at a recruiter's office and led him to his office, which was located in a separate building, to conduct the interview. During the walk to his office approximately 100 yards away, Grant asked Mir questions regarding his ability to walk. Mir notified Grant that he had a hip replacement surgery, a mistake was made, and his sciatic nerve was crushed. The interview commenced once Mir and Grant reached his office. During the interview, Grant asked Mir questions regarding the nature and extent of Mir's physical limitations. In particular, Grant made inquiries as to the short and long-term prognoses and a timeline of when the injuries occurred. Mir testified that the discussion concerning his injuries lasted about fifteen minutes. Approximately three weeks after the interview, L-3 Communications notified Mir that he would not be hired for the position. 
A Prohibited Inquiry, Standing Alone, Violates The ADA
L-3 Communications filed a motion with the trial court seeking dismissal of Mir's disability discrimination claims. In doing so, L-3 Communications contended that Mir's disability discrimination case failed as a matter of law and Mir was prohibited from presenting his case to a jury. In ruling on L-3 Communications' motion for dismissal, the trial court found that Mir's discriminatory failure to hire claim failed because he could not establish that he met the minimum qualifications for the Mechanical Design Engineer position. Because Mir was not qualified for the position, the trial court reasoned, Mir could not establish that L-3 Communications discriminated against him because of his disability in failing to hire him.
Although the trial court determined that Mir could not establish a discriminatory failure to hire claim, the trial court refused to dismiss Mir's prohibited inquiry claim under the ADA. The trial court found that whether L-3 Communications made improper disability-related inquires regarding Mir's health condition was a factual issue for the jury to resolve and not the court as a matter of law. Thus, although L-3 Communications could not be held liable under the ADA for its failure to hire Mir, L-3 Communications could be held liable under the ADA for making improper disability-related inquiries regarding Mir's health condition because a prohibited disability-related inquiry is, in and of itself, a violation of the ADA. 
Free Consultation With Ocala Disability Discrimination Lawyers
Based in Ocala, Florida and representing employees throughout Central Florida, we have been litigating cases involving disability discrimination for almost twenty years. If you have been discriminated against on the basis of a disability or have questions about what constitutes a protected disability-related inquiry under the ADA, please contact our office for a free consultation with our Marion County, Florida disability discrimination attorneys. Our employee rights law firm takes disability discrimination cases on a contingency fee basis. This means that there are no attorney's fees incurred unless there is a recovery and our attorney's fees come solely from the monetary award that you recover.