What Types Of Evidence Prove That An Employee Was Harassed Because Of His Or Her National Origin?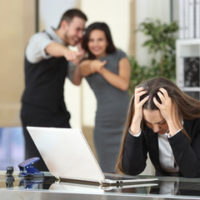 Title VII of the Civil Rights Act of 1964 (Title VII) protects employees from discrimination on the basis of national origin. Although Title VII does not mention national origin harassment, courts have uniformly held that national origin harassment that creates a hostile work environment is a form of national origin discrimination prohibited by Title VII. Under Title VII, a hostile work environment is created when the workplace is permeated with discriminatory intimidation, ridicule, and insult that is sufficiently severe or pervasive to alter the conditions of the victim's employment and create an abusive working environment. In order to establish a hostile work environment claim under Title VII, an employee must produce enough evidence to show that the mistreatment at work occurred because of the employee's protected characteristic, such as the employee's race, national origin, gender, age, or disability. 
Having represented employees victimized by national origin harassment for almost twenty years, our Citrus County, Florida national origin harassment attorneys have learned that employers frequently defend national origin harassment cases by claiming that the employee was mistreated for some reason other than his or her national origin. For example, employers maintain that the mistreatment occurred because of personality conflicts, horseplay, company politics, personal antagonism, or some perceived slight. In attempting to portray the misconduct as having been motivated by something other than the employee's national origin, employers also customarily claim that the employee did not endure unlawful hostile work environment harassment because Title VII does not establish a general civility code for the workplace.
Although national origin harassment does not have to be explicitly ethnic or racial in nature, ethnic or racial slurs give rise to an inference of discrimination based on national origin because such epithets are reasonably understood to have no other purpose than to express ethnic or racial animus. In other words, when an employee alleges that he or she was subjected to ethnic slurs, the employee has established that the harassment occurred because of national origin. The decision by the U.S. Second Circuit Court of Appeals in Rivera v. Rochester Genesee Regional Transportation Authority, 743 F.3d 11 (2d Cir. 2012) not only shows that the intent to discriminate on the basis of national origin in cases involving ethnic or racial slurs should be recognized as a matter of course, but also shows that such epithets can be used to establish that national origin discrimination motivated other harassing behavior as well. 
Employee Subjected To Ethnic Slurs
In that case, Enio Rivera (Rivera), a Hispanic of Puerto Rican descent, claimed that he was subjected to hostile work environment harassment based on national origin in violation of Title VII. Rivera was an employee of Lift Line, Inc. (Lift Line), a subsidiary of Rochester Genesee Regional Transportation Authority (RGRTA). Rivera worked for Lift Line as a bus driver.
During Rivera's employment, an employee named Folino began an affair with Rivera's then-wife. Rivera and his wife divorced after Rivera learned of the affair. Folino then married Rivera's ex-wife. The affair created antagonism between Rivera and Folino at work. After the divorce, Rivera claimed that Folino began subjecting him to harassment based on his national origin, including calling him a "spic" twice and "Taco Bell" at least five times. Rivera also produced evidence that Folino referred to him as a "spic" outside of his presence on at least one occasion. Rivera further claimed that Folino and several other employees regularly harassed and bullied him in the workplace, but without using ethnic slurs. For example, Rivera alleged that he was subjected to cursing, physical confrontation, and tampering with his time card slot.
The trial court dismissed Rivera's national origin harassment claim. In dismissing Rivera's case, the trial court concluded that the harassment Rivera allegedly experienced arose from a personality conflict rather than Rivera's national origin. On appeal, the Second Circuit reversed the trial court's decision and reinstated Rivera's national origin harassment claim.
National Origin Need Not Be The Only Motivating Factor
The Second Circuit found that Rivera had produced sufficient evidence to establish that he was harassed based on his national origin and in a manner that interfered with his ability to do the job. Unlike the reversed trial court, the appellate court observed that Rivera was not "required to demonstrate that his national origin was the only motivating factor" for the abuse he endured. Rather, the appellate court explained, Rivera "needed to show only that a reasonable fact finder could conclude that [ ] national origin was a motivating factor in the harassment." In applying these principles, the appellate court found that there was "enough evidence—both the use of ethnic slurs and the broader bullying and physical harassment—from which a reasonable jury could find that Folino harassed Rivera not merely because of their personal history, but also because Rivera was Puerto Rican."
Free Consultation With Citrus County Discrimination Lawyers 
Based in Ocala, Florida and representing employees throughout Central Florida, we have substantial experience litigating hostile work environment harassment cases, including cases involving national origin harassment. If you have been the victim of an abusive work environment or have questions about being subjected to ethnic or racial slurs in the workplace, please contact our office for a free consultation with our Citrus County, Florida national origin discrimination lawyers. Our employee rights law firm takes national origin discrimination cases on a contingency fee basis. This means that there are no attorney's fees incurred unless there is a recovery and our attorney's fees come solely from the monetary award that you recover.