When An Employee Signs A Severance Agreement Must The Money Be Returned As A Precondition To Filing A Lawsuit?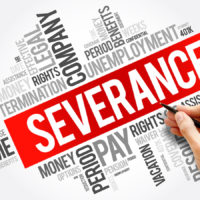 Having fought for the rights of victims of employment discrimination for almost twenty years Citrus County employment law attorneys have learned that employers frequently offer victims of employment discrimination a severance agreement after terminating their employment. Knowing the employee is emotionally and financially vulnerable, employers exploit that vulnerability by offering to pay the employee a lump-sum of money, usually paid in installments, in exchange for the employee's release of all legal claims that the employee may have against the employer, including employment discrimination claims. In some circumstances, employers further exploit the employee's vulnerability by attempting to coerce the employee into signing a severance agreement through intimidating and threatening tactics. Read on to learn more about signing a severance agreement under duress.
Because severance agreements are signed under circumstances of emotional and financial distress, some employees regret their decision to waive their employment discrimination claims and want to challenge the validity of the severance agreement so that they can pursue an employment discrimination lawsuit against the employer. Like any other contract, generally applicable contract law defenses, such as fraud, duress, or unconscionability, can be used to invalidate severance agreements. Wholly independent of whether a severance agreement can be invalidated under contract law, an issue which arises when an employee wants to challenge the validity of a severance agreement is whether the employee must return the money to the employer as a precondition to filing a lawsuit asserting an employment discrimination claim. In McClellan v. Midwest Machining, Inc., No. 17-1992 (6th Cir. Aug. 16, 2018), the U.S. Sixth Circuit Court of Appeals addressed this issue.
Employee Signs Severance Agreement Under Duress
In that case, Jena McClellan (McClellan) brought a lawsuit against her former employer, Midwest Machining, Inc. (Midwest), challenging the validity of a severance agreement and asserting employment discrimination claims pursuant to Title VII of the Civil Rights Act of 1964 (Title VII), as amended by the Pregnancy Discrimination Act, and the Equal Pay Act (EPA). McClellan began working for Midwest in 2008 as a telemarketer. McClellan was quickly promoted to working in Midwest's "inside sales" department. In late August 2015, McClellan informed Midwest that she was pregnant. According to McClellan, her supervisor began making negative remarks about her pregnancy and was irritated by her absences from work for pre-natal appointments. About three months later, McClellan was fired despite having no disciplinary history.
On the day of her termination, McClellan alleged that Midwest's president called her into his office. There, he presented McClellan with an agreement and said that she "needed to sign if she wanted any severance." McClellan testified that she felt bullied throughout the meeting, that she felt she could not ask questions, and that the president's tone was "raised" during the entire conversation. "Feeling pressured," McClellan signed the agreement, without the benefit of a lawyer. The agreement provided that McClellan would waive "any and all past, current, and future claims" that she had against Midwest. Under the terms of the severance agreement, Midwest agreed to pay McClellan $4,000, payable in eight weekly installments. Midwest made each payment and McClellan accepted them.
Employee Brings Discrimination Lawsuit
After she signed the severance agreement and accepted the money, McClellan filed a charge of discrimination against Midwest with the U.S. Equal Employment Opportunity Commission (EEOC). After receiving a notice of right to sue from the EEOC, McClellan filed an employment discrimination lawsuit against Midwest alleging that she was fired on the basis of pregnancy in violation of Title VII and subjected to unequal pay in violation of the EPA. As part of her employment discrimination lawsuit, McClellan claimed that the severance agreement was not a valid and enforceable contract because it was the product of duress.
After she commenced the lawsuit, McClellan, at the direction of her attorney, sent a letter to Midwest stating that she was "rescinding the severance agreement . . . because she wanted to litigate matters relating to her former employment and termination." Enclosed with the letter was a check for $4,000. Midwest responded to the letter by returning the check to McClellan a week later, asserting that "there was no legal basis for rescinding the severance agreement."
Court Protects Economically Vulnerable Employees
Midwest filed a motion with the trial court seeking dismissal of McClellan's discrimination claims on grounds that they were barred by the severance agreement. Midwest further argued that McClellan's discrimination claims were barred because she did not return or "tender back" the money she had received under the severance agreement before commencing the lawsuit. The trial court ruled that McClellan's claims were not barred by the severance agreement because there was sufficient evidence to establish that McClellan did not "knowingly" and "voluntarily" enter into the severance agreement. However, the trial court ruled that McClellan's discrimination claims were nonetheless barred because she did not return the money before filing the lawsuit. In doing so, the trial court reasoned that returning the money was a precondition to bringing a lawsuit against Midwest under Title VII and the EPA.
On appeal, the Sixth Circuit reversed the trial court's dismissal and reinstated McClellan's Title VII and EPA claims. In doing so, the appellate court ruled that employees are not required to return money received pursuant to a severance agreement as a precondition to bringing claims under Title VII or the EPA. The court of appeals reasoned that "requiring recently discharged employees to return their severance pay before they can bring claims under Title VII and the EPA would serve to only protect malfeasant employers at the expense of employees' statutory protections at the very time that those employees are most economically vulnerable." The Sixth Circuit explained that in the event the employee prevails on a Title VII or EPA claim, the money paid to the employee pursuant to the severance agreement can be "deducted from any award." 
Free Consultation With Employment Law Attorneys
Based in Ocala, Florida and representing employees throughout Central Florida, we have almost twenty years of experience litigating employment law cases. If you have questions about employment law or a severance agreement, especially if signing under duress, please contact our office for a free consultation with our Florida employment law attorneys. Our employee rights law firm takes employment law cases on a contingency fee basis. This means that there are no attorney's fees incurred unless there is a recovery and our attorney's fees come solely from the monetary award that you recover.