Whistleblower's Evidence Shows He Was Fired In Retaliation For Reporting Employer's Securities Fraud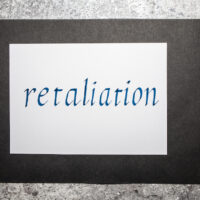 Having represented whistleblowers for more than two decades, our Marion County, Florida whistleblower lawyers know that employers often respond to employees who "blow the whistle" about their illegal activities by attacking them. In attacking whistleblowers, employers seek to deflect attention from their illegal activities and make whistleblowers defend their conduct. For example, employers will demand that whistleblowers answer questions about how they obtained information regarding their illegal activities and accuse whistleblowers of obtaining the information unlawfully. In other words, employers try to make the case about the whistleblower's conduct—not their conduct. In this article, our Marion County, Florida whistleblower attorneys show how the facts alleged in Perez v. Progenics Pharmaceuticals, Inc., 965 F.Supp.2d 353 (S.D. N.Y. 2013) demonstrate that many employers defend their illegal activities by attacking the whistleblower.
Whistleblower Claims Retaliatory Discharge
In that case, Julio Perez (Perez) brought a whistleblower lawsuit against his former employer, Progenics Pharmaceuticals, Inc. (Progenics), pursuant to the Sarbanes-Oxley Act. The Sarbanes-Oxley Act provides, in relevant part, that publicly traded companies cannot retaliate against an employee who provides information to a person with supervisory authority over the employee about any conduct which the employee reasonably believes constitutes securities fraud. Perez claims that Progenics violated the Act by terminating his employment in retaliation for a memorandum he wrote regarding a press release about a pharmaceutical drug.
While employed by Progenics, Perez's primary responsibility was to support development of Relistor, a drug designed to alleviate constipation in patients undergoing cancer treatments. In 2008, Progenics, with its partner, Wyeth Pharmaceuticals (Wyeth) conducted clinical trials on Relistor. In order to obtain Food and Drug Administration approval for Relistor, Progenics was required to put the drug through three phases of clinical trials.
In early 2008, Progenics completed the second phase of Relistor's clinical trials. In May 2008, Progenics issued a press release stating that it was "pleased" with the second phase results, which had shown "statistically significant activity." At this time, Perez was involved as a chemist working on the oral formulation of Relistor and was aware of the press release but had not reviewed the clinical trials.
Sometime in July 2008, Perez reviewed a document known as the "Wyeth Update," a PowerPoint presentation in which Wyeth employees summarized the second phase clinical trial results for Relistor. The Wyeth Update indicated that although the Relistor clinical trial had shown some statistically significant activity, the drug had not achieved advancement criteria set out by Wyeth. The Wyeth Update recommended against proceeding to the third phase of the clinical trials.
Employee Blows The Whistle
After reviewing the Wyeth Update, Perez drafted a memorandum dated August 4, 2008, addressed to Progenics' general counsel and the head of Perez's department, accusing the company of committing fraud against shareholders by publishing the May 2008 press release. After pointing out what he interpreted as contrasts between the "rosy picture in the [May 2008] press release" and the results described in the Wyeth Update, Perez described it as his "moral duty" to advise both companies that they were "committing fraud against shareholders."
On the same day Perez delivered his memo, Progenics' employees removed Perez's computer from his office and disabled access to Progenics' information technology system. That afternoon, Progenics' Chief Financial Officer, McKinney, questioned Perez as to how he came to possess the Wyeth Update, and Perez responded by asking to speak with his attorney. McKinney told Perez that he "couldn't stop him" from speaking to his attorney. The next day, Progenics' General Counsel, Baker, and McKinney met with Perez and fired him. Progenics' claims that Perez was fired because of "insubordination" for refusing to explain how he obtained the Wyeth Update.
Fired For Blowing The Whistle
Progenics filed a motion with the trial court seeking dismissal of Perez's whistleblower lawsuit. In doing so, Progenics argued that it legitimately fired Perez because of his alleged failure to explain how he got the Wyeth Update and characterized Perez's accessing this document as "egregious misconduct." The trial court denied Progenics' motion for dismissal and ruled that Perez was entitled to proceed to trial because he had presented sufficient evidence to establish that he was fired in retaliation for reporting alleged securities fraud by Progenics.
In denying Progenics' motion for dismissal, the trial court focused on evidence showing that Progenics openly displayed animus towards Perez directly on the heels of his protected activity. The trial court noted that Progenics removed Perez's computer and Perez had a "hostile" encounter with the General Counsel before any discussion of his access to the Wyeth Update. The trial court also pointed out that Progenics fired Perez less than twenty-four hours after he reported the alleged securities fraud and before Perez could answer the question about how he obtained access to the Wyeth Update. Thus, based on his version of events, Perez did not refuse to explain his access to the Wyeth Update. From this evidence, the trial court concluded, a reasonably jury could find that Perez's reporting of alleged securities fraud by Progenics was a contributing factor to his termination.
Free Case Evaluation With Ocala Whistleblower Lawyers
Based in Ocala, Florida and representing employees throughout Central Florida, our Marion County, Florida whistleblower attorneys are dedicated to fighting for employee rights. If you have been fired for blowing the whistle or have questions about your rights as a whistleblower, please contact our office for a free consultation with our Marion County, Florida whistleblower lawyers. Our employees' rights law firm takes whistleblower cases on a contingency fee basis. This means that there are no attorney's fees incurred unless there is a recovery and our attorney's fees come solely from the monetary award that you recover.