Worker Claims She Was Fired In Retaliation For Complaining About Racism Against Other Employees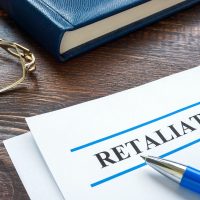 For more than twenty years, our Marion County, Florida unlawful termination lawyers have represented employees who have been retaliated against for complaining about workplace discrimination. Having decades of experience representing workplace retaliation victims, our Ocala, Florida unlawful termination attorneys know that a common employment law myth is that employees are not protected from retaliation when they complain about discrimination towards other employees. In this article, our Marion County, Florida unlawful termination attorneys explain how the decision in Courville v. United Rentals, Inc., Case No. 21-cv-00012 (M.D. La. May 27, 2022) demonstrates that federal employment discrimination law protects employees from retaliation when they complain about perceived discrimination against other employees.
Unlawful Termination Lawsuit
In that case, a woman named Courville brought a retaliation claim against her former employer, United Rentals, Inc. (United), pursuant to Title VII of the Civil Rights Act of 1964 (Title VII). Under Title VII, employees are protected from retaliation when they complain about perceived discrimination on the basis of color, race, national origin, sex, or religion. Courville, who is white, contends that she was unlawfully fired in violation of Title VII for having complained about discriminatory treatment of African-American employees.
Since 2017, Courville worked for United as an internal sales representative at its office in Baton Rouge, Louisiana. In the fall of 2018, Courville raised concerns to United's Branch Manager, Lawrence, regarding a Service Manager named Stutes. Courville claimed that many of Stutes' decisions and actions towards African-American employees were "racially motivated." Lawrence responded by saying that he "would look into it."
On February 14, 2019, because her concerns were not resolved by Lawrence, Courville lodged a race discrimination complaint against Stutes directly with Human Resources. Courville told an HR Generalist, Mahoney, that Stutes treated employees differently "based on race," and that he would frequently refer to African-American employees as "boy." Courville asked Mahoney "if he could quietly investigate her claims of racism at the branch," and further requested that, if "at all possible he keep her name out of it because she was scared of retribution."
Approximately one week later, United's District Manager, Sauve, visited the Baton Rouge office to investigate Courville's allegations against Stutes. Sauve's investigation included interviewing African-American employees. Notably, by Sauve's own account, three of the African-American employees he interviewed substantiated Courville's complaints regarding Stutes. Ultimately, as a result of Sauve's investigation, United required Stutes to receive diversity, inclusion, and management training.
Fired After Discrimination Complaints
Significantly, despite her request to Mahoney that her name be "kept out of it," Sauve's investigation also resulted in Courville being summoned for a closed-door meeting with Sauve and Branch Manager Lawrence. Courville recalls that at this meeting Sauve told her that she "was not in any trouble," but still "scolded" her, saying that he "did not appreciate her going over his head and speaking to a kid in HR that didn't know nothing," and expressing frustration that he was required to conduct an "unfounded and baseless" investigation "against a manager."
In May 2019, two months after Courville's meeting with Suave and Lawrence, Lawrence was replaced as Branch Manager by a woman named Pesson. Courville still harbored concerns regarding Stute's treatment of African-American employees under his supervision and reported these concerns for a third time in early summer 2019 directly to Pesson. Specifically, she told Pesson that she again heard Stutes refer to African-American employee as "boy." Pesson responded by asking Courville "what personal problem [she] had against Stutes to make such an accusation."
In September 2019, Sauve conducted an analysis of the Baton Rouge office's revenues and expenses, with the goal of "reducing expenses associated with employees." During this review, Sauve ostensibly determined that Courville's position was redundant because two more senior employees with expertise in specialized billing were recently transferred to the Baton Rouge office. Sauve reached this determination despite Courville being an internal sales representative whose general job duties did not include specialized billing. Additionally, Sauve determined that Courville was expendable even though she had just received a glowing performance review. On October 31, 2019, Sauve and Pesson met with Courville and advised her that her position had been eliminated and that she was no loner needed.
Protection From Retaliation
United filed a motion with the trial court seeking dismissal of Courville's retaliatory discharge claim. The trial court denied United's motion for dismissal and ruled that Courville had presented sufficient evidence that she was fired in retaliation for complaining about perceived racial discrimination against African-American employees to proceed to a jury trial.
In denying United's motion for dismissal, the trial court focused on three pieces of evidence. First, the trial court pointed out that "ostensibly, Sauve and Pesson fired Courville because [United] had two other employees performing specialized billing services." However, the trial court noted, Courville's "official job responsibilities did not include specialized billing services." Second, the trial court observed that Courville "had just receiving a glowing performance review, suggesting that if redundancy was a true motivator she should not have been fired in favor of two billing specialists, but instead retained in favor of a lower-performing internal sales representative." Finally, the trial court explained that the two decision-makers responsible for Courville's termination—Sauve and Pesson—had "previously expressed hostility" towards Courville's race discrimination complaints.
Ocala, FL Unlawful Termination Lawyers
Based in Ocala, Florida and representing workers throughout Florida, our unlawful termination attorneys in Marion County, Florida have dedicated their practice to fighting for the rights of employees. If have been unlawfully terminated or have questions about your employee rights under federal employment discrimination law, please contact our office for a free consultation with our unlawful termination lawyers in Marion County, Florida. Our employee rights law firm takes unlawful termination cases on a contingency fee basis. This means that there are no attorney's fees incurred unless there is a recovery and our attorney's fees come solely from the monetary award that you recover.