Court Rules That Employee's Tying A Rope Into A Noose Can Create A Racial Hostile Work Environment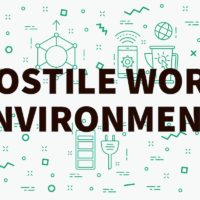 Title VII of the Civil Rights Act of 1964 (Title VII) and the Florida Civil Rights Act (FCRA) prohibit employers from discriminating against employees on the basis of race. Although Title VII and the FCRA do not mention racial harassment, courts have uniformly held that racial harassment is a form of race discrimination prohibited by Title VII and the FCRA. As a result, employees are protected from racial harassment that is sufficiently severe or pervasive to alter the conditions of the victim's employment and create a discriminatorily abusive working environment. 
Having fought for the rights of employees who have endured racial harassment in the workplace for almost twenty years, our Citrus County, Florida race discrimination attorneys know that egregious acts of racial harassment still occur in the workplace, including racial slurs, racist graffiti, and racist symbols. Unfortunately, although Title VII and the FCRA make racial harassment an unlawful employment practice, decisions in the racial harassment context reflect that many courts are not fully committed to protecting employees from racial bigotry at work. However, as the recent decision by the U.S. District Court for the Northern District of Mississippi in Lenoir v. SGS North America, Inc., 2017 WL 4158625 (N.D. Miss. Sept. 18, 2017) demonstrates, the overwhelming majority of courts recognize racial harassment has no place in any work environment.
Efforts To Intimidate & Terminate Employee
In that case, Leundrell Lenoir (Lenoir) brought racial hostile work environment harassment claim against his former employer, SGS North America, Inc. (SGS), pursuant to Title VII. Lenoir, who is African-American, worked for SGS as an inspector of rail cars. SGS is a contractor for a chemical plant in Aberdeen, Mississippi. SGS is primarily responsible for moving rail cars in and out of the plant and sorting and pulling select rail cars as needed. 
During his employment, Lenoir was supervised by an employee named Jackson. While Lenoir was in Jackson's office sitting across the desk from him, Jackson tied a rope into a noose and held it up in front of Lenoir. Jackson then leaned back in his chair and made a "popping" noise with his mouth. Lenoir told Jackson, "I don't play like that, you don't do that to a black man" and left the office. In his deposition, Jackson admitted to knowing the offensive symbolism of the noose, but denied tying the noose. 
Three days later, Jackson and another management employee performed an audit on some of the rail cars that Lenoir had inspected and repaired the previous week. According to Jackson, four of the repairs that Lenoir claimed to have made were not performed or were not done properly. Jackson and the management employee fired Lenoir the following day for falsifying documentation, specifically, for reporting repairs as complete that were not. SGS hired a white employee to replace Lenoir in the inspector position.
Single Noose Incident Can Create Abusive Work Environment
SGS filed a motion with the trial court seeking dismissal of Lenoir's racial harassment claim. In its motion, SGS argued that Lenoir's racial harassment must be dismissed because the single noose incident was not sufficiently severe or pervasive to create a racial hostile work environment. The trial court denied SGS's motion. 
In denying SGS's motion, the trial court found that decisions from courts ruling that exposure to a single noose incident was insufficiently severe to create a hostile work environment were distinguishable because the victims in those cases did not know who put the noose in the workplace and remedial action was immediately taken. Unlike the circumstances in those cases, the trial court reasoned, "Jackson's noose tying was clearly directed at" Lenoir. Moreover, the trial court pointed out, after "Lenoir complained to Jackson, instead of taking corrective action to remedy the offense, Jackson arguably elevated his efforts to intimate and terminate Lenoir." Thus, the trial court explained, decisions holding that exposure to a single noose incident was insufficiently severe to create a hostile work environment were distinguishable because Lenoir knew who was responsible for the noose in the workplace and remedial action was not immediately taken. Therefore, the trial court concluded, "a reasonable jury could find that the harassment was sufficiently severe to create a hostile work environment."
Free Consultation With Citrus County Race Discrimination Attorneys 
Based in Ocala, Florida and representing employees throughout Central Florida, we have extensive experience litigating racial harassment cases. If you have been the victim of racial harassment or have questions about efforts to intimidate you at work, please contact our office for a free consultation with our Citrus County, Florida race discrimination lawyers. Our employee rights law firm takes racial harassment cases on a contingency fee basis. This means that there are no attorney's fees incurred unless there is a recovery and our attorney's fees come solely from the monetary award that you recover.