Pregnant Employee Told her Appearance Was "Bad For Business" Claims Wrongful Firing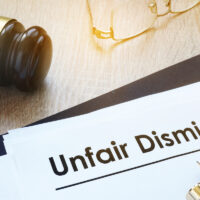 Having fought for the rights of pregnant employees for more than twenty years, our Sumter County, Florida wrongful termination lawyers have learned that employers frequently attempt to justify the termination of pregnant employees by claiming that they were laid off as part of a reduction in force because business was slow. In claiming that a pregnant employee's discharge was necessitated by financial concerns triggering a reduction in force and layoff, however, employers will often replace the pregnant employee or hire new employees during the time the alleged reduction in force was in effect. In this article, our Wildwood, Florida wrongful termination lawyers explain how the decision in Graciani v. Patients Medical, P.C., 2015 WL 5139199 (E.D. N.Y. Sept. 1, 2015) illustrates that when an employer alleges that a pregnant employee was laid off because business was slow, evidence showing that the employer replaced the pregnant employee may demonstrate that the employer's proffered explanation for the termination was merely a pretext for unlawful pregnancy discrimination.
Pregnant Employee Claims Discrimination
In that case, Mara Graciani (Graciani) brought a pregnancy discrimination lawsuit against her former employer, Patients Medical, P.C. (Patients Medical), pursuant to the Pregnancy Discrimination Act (PDA). Under the PDA, employers are forbidden from discriminating against women on the basis of pregnancy, childbirth, or related medical conditions. Graciani alleges that Patients Medical violated the PDA by terminating her employment because of her pregnancy.
During her employment with Patients Medical, Graciani first worked as a medical assistant, and later as an administrative assistant. Graciani first told her supervisor, a woman named Penta, that she was pregnant on January 25, 2013. That same day, Penta informed the owner of Patients Medical, Dr. Gulati, that Graciani was pregnant. Graciani claims that Dr. Gulati began to harass her the next day about her pregnancy.
When she became pregnant, Graciani's work clothes and scrubs no longer fit her, and her stomach would show. At this point, Graciani was three to four months pregnant. Dr. Gulati asked Graciani "why is your stomach showing?" and "why is your belly out?" and told Graciani that her appearance was "bad for business." Dr. Gulati also told Graciani to wear larger clothes. When Graciani went to the bathroom, Dr. Gulati allegedly banged on the door and "rushed" Graciani out. On the day prior to her termination, Graciani discovered that her nursing shoes had been cut or torn with a knife. When Dr. Gulati saw Graciani looking at her shoes, Dr. Gulati told Graciani she "wouldn't be needing them any longer."
Ten days after she first announced her pregnancy, Graciani was fired. During the meeting in which she told Graciani that her employment was teruminated, Penta informed Graciani that the termination decision originated from Dr. Gulati. Penta further informed Graciani that she was being laid off due to lack of work because business was slow. After telling Graciani that she could reapply for a job at Patients Medical once she gave birth and was no longer pregnant, Penta also remarked to Graciani, "you know how Dr. Gulati is with pregnant people."
Trying To Hire Others Shows Business Not Slow
Patients Medical filed a motion with the trial court seeking dismissal of Graciani's pregnancy discrimination claim. In moving for dismissal, Patients Medical argued that Graciani's termination was motivated by financial concerns because business was slow and not by Graciani's pregnancy. The trial court denied Patients Medical's motion for dismissal and ruled that Graciani had presented sufficient evidence to establish that her pregnancy was a motivating factor in the decision to terminate her employment to proceed to a jury trial.
In rejecting Patients Medical's demand for dismissal, the trial court focused on evidence showing that business at Patients Medical was not slow. During the same time that Patients Medical was allegedly forced to lay off employees because business was slow, the trial court pointed out, the company also attempted to hire doctors and staff to provide new services. The trial court also noted that Patients Medical had hired someone to replace Graciani as administrative assistant. From this evidence, the trial court concluded, a jury could find that Patients Medical's explanation that Graciani was fired because business was slow was merely a pretext for pregnancy discrimination. Consequently, the trial court determined that whether Graciani was terminated because of her pregnancy was for a jury to decide.
Consult With Wildwood, FL Wrongful Discharge Lawyers
Based in Ocala, Florida and representing employees throughout Central Florida, our Sumter County, Florida wrongful termination lawyers have been fighting for the rights of employees for more than two decades. If you have been wrongfully fired or have questions about your protection against wrongful termination under the federal employment laws, please contact our office for a free consultation with our Wildwood, Florida wrongful termination lawyers. Our employee rights law firm takes wrongful termination cases on a contingency fee basis. This means that there are no attorney's fees incurred unless there is a recovery and our attorney's fees come solely from the monetary award that you recover.